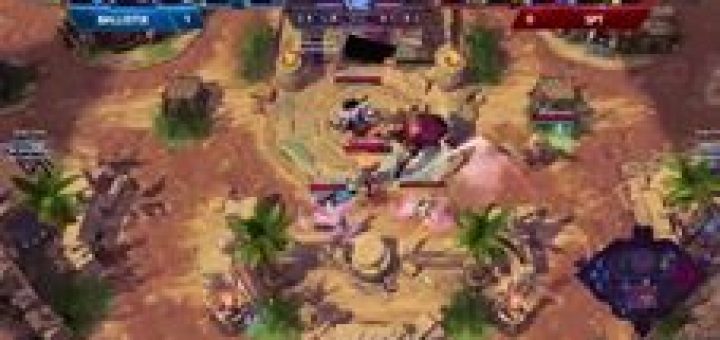 Heroes of the Storm 
Heroes of the Storm (originally titled Blizzard DOTA and later changed to Blizzard All-Stars) is a multiplayer online battle arena video game developed by Blizzard Entertainment.The game features heroes from Blizzard's franchises including Warcraft, Diablo, StarCraft, The Lost Vikings, and Overwatch.
The Heroes of the Storm Global Championship
In the premier Heroes of the Storm competition, top teams battle for supremacy in regional professional leagues around the world. The best of the best will be tested in international Clashes and a Mid-Season Brawl as they fight their way to the finish at the HGC Finals.
Heroes of the Storm Global Circuit consists of Spring, Summer, and Fall Championships. In each of these three distinct competitions, teams battle it out through a series of tournaments to determine which 12 will represent their regions on the global stage.
For 2018, the HGC will require all 32 teams to identify team ownership that will be responsible for fielding a competitive roster, managing all team operations, and working with the HGC league office, among other functions. With team ownership focused on the administrative aspects of HGC membership, including marketing and league planning, players will be free to put all their attention on the gameplay elements that come with being professional competitors in the HGC.
Heroes of the Storm News
Phase 2 of the HGC is just around the corner! Check out the preliminary details for the Clashes coming up after Mid-Season Brawl!

➡️ http://blizz.ly/2rZ7qrZ
The world's best Heroes teams will return to DreamHack Summer for the Mid-Season Brawl w/ a $250,000 prize pool and international bragging rights at stake! 🏆🌍

🔎 Teams, format, and more: blizz.ly/2k71UiN
"Wait 'till they get a load of me!"

Take your Queen of Blades game to the next level with scHwimpi's guide to Kerrigan!

➡️Read: blizz.ly/2Gu5sEN
Heads up HGC fans! This year you can watch BlizzCon Opening Week LIVE at the Blizzard Arena - four days packed with exciting matches leading up to the main event!

🎟️ Get Tickets! http://blizz.ly/2KyKoiu
The finals of the HGC Horizon Clash will have Southeast Asia's Resurgence taking on Taiwanese qualifier Luna Meow in a best-of-seven to determine a champion! 🏆

Get to know Resurgence : blizz.ly/2ImpdUo
(⬇️ scroll down for English version!)
Mindfreak took the Intercontinental Clash trophy this weekend and earned a spot at the Mid-Season Brawl!
CONGRATULATIONS LAVAL - YOUR 2018 HEROES OF THE DORM!!! 🎊

After an undefeated run in the Heroic Four and Grand Finals, they've earned the undisputed title of collegiate Heroes champions! #HeroesOfTheDorm
The Grand Finals of Heroes of The Dorm are LIVE! One team will walk away crowned collegiate champions and win tuition for the rest of their collegiate careers! 🎓 🏆

Buffalo 🆚 Laval

📺Tune in: http://blizz.ly/HeroesTwitch
Double Cho'gall MAYHEM in the Boss pit!!!

The Pomona Ponies are making this wild draft work wonders! #HeroesOfTheDorm
"Gul'dan.... where'd ya go!?" 😂

Laval gets the D-E-L-E-T-I-O-N engage on Kentucky! #HeroesOfTheDorm

Tune in: blizz.ly/HeroesTwitch