The 2019 Brawlhalla Summer Championship was a tournament full of upsets and amazing performances! Over two weekends, seven online tournaments were held across five regions with over $20,000 in prizes. Let's celebrate the winners of North America, Europe, Australia, Brazil, and Southeast Asia! This is the recap of the 2019 Summer Championship.
The next Brawlhalla event is at Shine 2019! Registration ends on August 9th, 2019 at 11:59pm EST. You can sign up at smash.gg/brawlhalla and watch all of the action live at Brawlhalla.com/watch!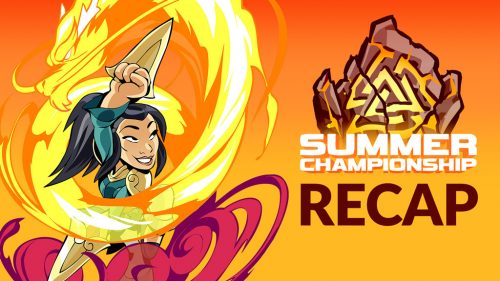 The first weekend of competition got off to a great start with the EU 1v1 Top 8 bracket. On the winners side were the familiar names of Macheeete, simpLe, Acno and TheNinja729. Macheeete barreled through the tournament with Xull, while Acno enjoyed the Heatwave by playing Thor while sporting the Thor by the Shore seasonal skin. Both of these players won their matches to face off against each other in the Winners Finals. Macheeete was the clear favorite to win, being the winner of previous online championships like the Super Summer Slayem and the Mayhem of Ragnirock. When he 3-0'd Acno in the Winners Finals, many were even more convinced that Macheeete would win. But after being knocked into the lower bracket, Acno revealed his hidden power pick, Ragnir, and scorched through Macheeete through the entirety of Grand Finals. GS18VF-N35ZJ6
Acno is your European 1v1 Summer Champion!
The NA 1v1 top 8 followed shortly afterwards. It was a crazy tournament to watch for one particular reason: @Wildcard_GG Sandstorm was unable to attend. This meant that for the first time since the 2019 Winter Championship, there would be a 1v1 tournament where Sandstorm was not in the Grand finals. Top 8 featured well known players @NobleGG Phazon, STTP WILSON, @Tempo_Storm Boomie and @FlashPointGG Cody Travis. Cody Travis had a wonderful performance, beating Boomie and 3-0'ing STTP WILSON to get into the Grand Finals. @Wildcard_GG Wrenchd, who had fought his way through the losers bracket before top 8 even began, took out Boomie and STTP Wilson to fight Cody Travis and convincingly got the bracket reset. The second best-of-5 was close and ended up being 3-2 for Wrenchd. 1Y36DT-0CEQDC
@Wildcard_GG Wrenchd is your North American 1v1 Summer Champion!
EU 2v2 Top 8 began the day after and many favorite EU teams were still at the top. Blew/simpLe faced off against Acno/Blaze while Vaped/TheNinja729 fought against M for Mini/Hysen. It has been a while since we have seen M for Mini place highly in an EU tournament. He put on an impressive performance with his teammate Hysen, making it into the Winners Finals to fight against the best team in EU, Blew/Simple. M for Mini/Hysen caused the reigning 2v2 champs of EU to struggle, but in the end Blew/simpLe came out on top. They continued their dominance over the EU 2v2 scene by winning the Grand Finals without dropping a single game. DRS9EF-H8J5ZY
Blew/simpLe are your European 2v2 Summer Champions!
Just like the previous day, the NA portion of the tournament followed directly after the EU 2v2 tournament. With his regular 2v2 teammate unable to play, @Tempo_Storm Boomie joined forces with Blood Diamond and fought against @NobleGG Phazon/@Lazarus Remmy in the winners side of top 8. Boomie/Blood Diamond fought well together despite being a new team, showcasing their ability to adapt to each other on the go. They barely lost to Phazon/Remmy, who went to Winners Finals to fight against another new NA team: ithrowow/@RectifyGaming Lil Capped. ithrowow/Lil Capped surprised many by how well they played, and not a single team came close to taking them out. Even though Boomie/Blood Diamond were able to get revenge on Phazon/Remmy in the lower bracket, they still weren't able to take a game off ithrowow/Lil Capped. 3QMKER-CMRCD9
ithrowow/@RectifyGaming Lil Capped are your North American 2v2 Summer Champions!
Less than one week after the NA/EU Summer Championships was the International Summer Championships. The weekend started off with the SEA 1v1 Top 8, featuring names such as Ghoul, KowlJay, and @FlashPointGG Tiger. Tiger was taken out by SenpaiGuy 2-1, motivating him to go through the losers bracket all the way to Grand Finals without dropping a game. Grand Finals was an epic showmatch between Tiger's koji and Ghouls's scythe legends. As the Grand Finals went on, Tiger got more and more of a read on Ghoul until he inevitably won. NQ43Y2-4F80X7
@FlashPointGG Tiger is your Southeast Asia Summer Champion!
After Southeast Asia was the Australian region. Kylar Alice absolutely destroyed the competition with his Bödvar. In the AUS 1v1 Top 8, he went up against BlackFlame, 2-0'd him, and then won Winners Finals without dropping a game against Doggo. Doggo was determined to get his rematch against Kylar Alice, winning with a 3-0 over Sand_Witch in the Losers Finals. Once he got to the Grand Finals, even with a series of Legend switches he wasn't able to take a game over the indomitable Kylar Alice. CRX1KD-B8Y1SB
Kylar Alice is your Australian Summer Champion!
The 2019 Summer Championship concluded with the BRZ 1v1 Top 8. Fiend, a name that has become very popular since his 3rd place finish at the Midseason Championship, was in the winners side of top 8 against DB. Vecinaa and StarDeath waited on the other side of the bracket. Fiend, playing Sentinel instead of his usual Gnash pick, dropped down to losers after losing to DB 1-2. StarDeath, also a Sentinel player, went up to fight against DB in the Winners Finals and won, 3-1. Fiend adjusted his gameplay and cut his way through the lower bracket. He had his rematch against DB and won, 3-0, and got the bracket reset on StarDeath. In the end, with some very clutch Petra plays, StarDeath was able to stop Fiend from winning it all and established that he was definitely another name to look out for in the Brazilian scene. GEA82W-DAEZS2
StarDeath is your Brazilian Summer Champion!
The 2019 Summer Championship was a blast! In just two weeks we'll be in Boston, Massachusetts for Shine 2019. What will happen during this exciting offline 1v1 and 2v2 event? Find out by catching it live between August 23rd-25th, 2019 at Brawlhalla.com/watch!
The tournament will be multi-streamed live on all official Brawlhalla media outlets, including Twitch, YouTube, and Mixer. Tune in anywhere from July 27th – 28th to witness the greatest players in Brawlhalla battle for fame and fortune!
Channels