The Classic Tetris World Championship (CTWC), celebrating its 10th anniversary, is complete. Following two days of intense competition, returning 2018 champion Joseph Saelee, of California, out bested opponents for the win at the annual event which took place this weekend at the Portland Retro Gaming Expo at the Oregon Convention Center.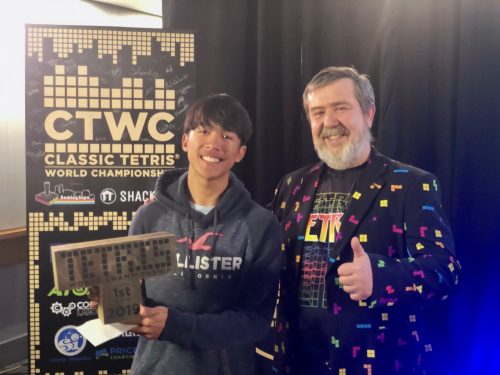 As a special surprise to the winners, Alexey Pajitnov, the creator of Tetris
®
, was on hand to witness the finals, congratulate winners and hand out the awards.
Created by avid fans of the 1989 Nintendo Entertainment System™ (NES) version of the game, CTWC is known as one of the premier competitions by top ranked Tetris players from around the world, including the United States, Europe, Australia and Asia.  In addition to Saelee, this year's competitors included Jonas Neubauer (2010, 2011, 2012, 2013, 2015, 2016 and 2017), Harry Hong (2014), European champion Svavar Gunnar Gunnarsson, Japanese Tetris Grand Master Koryan, and many other players featured in the award-winning documentary Ecstasy of Order: The Tetris Masters.
To help celebrate the CTWC's 10th anniversary, The Tetris Company, Inc. sponsored the event with $10,000 in cash prizes. As champion, Saelee was awarded $3,000 in prize money and the coveted CTWC trophy. Second place winner Koryan was awarded $1,500.  Third place winner Batfoy, of Minnesota, and fourth place winner DanQZ, of New Jersey, each received $750. $500 prizes were awarded to contestant who ranked fifth through eighth place, and $250 for those who came in ninth through sixteenth place. Additionally, Super Impulse and Paladone outfitted competitors with new licensed Tetris products including Tetris Micro Arcade units and Tetrimino Light kits, respectively.