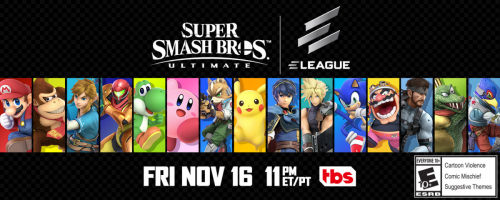 ELEAGUE, the premium esports tournament and content brand from Turner and IMG, today revealed new details about its upcoming Super Smash Bros. Ultimate episodic series, created in partnership with Nintendo. The three-part original production – Super Smash Bros. Ultimate Invitational 2018 presented by ELEAGUE – will provide fans with a new level of access to some of the game's most popular players as they faced off in the highly-anticipated title's first professional tournament, staged this past June at E3 in Los Angeles. The pilot episode will debut Friday, Nov. 16, at 11 p.m. ET/PT on TBS.
New editions of the show will be televised over three consecutive Fridays leading up to the launch of the Super Smash Bros. Ultimate game on December 7, and will feature unprecedented access to these star players through several candid interviews recorded during the Invitational. Players featured include Gonzalo "ZeRo" Barrios – known for having won 56 consecutive Super Smash Bros. tournaments during his professional career – as well as fan favorites Leonardo "MKLeo" Lopez and Justin "Plup" McGrath.
Viewers will learn the pros' reasons for devoting their careers to the Super Smash Bros. franchise, as well as the personal stories they shared with ELEAGUE crews at the elite tournament. In addition, the series will capture the passion of the Super Smash Bros. community through interviews with fans who gathered in Los Angeles to watch the event live.