After more than 42,000 teams from all over the world registered and competed in the online qualifiers, the PUBG MOBILE Club Open 2020 (PMCO 2020) Spring Split kicks off with the official next round. Group Stage matches are set to begin in India and South Asia, followed by additional matches in the other regions until early March.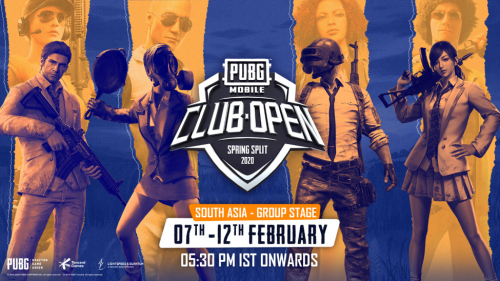 This year, PMCO is covering more countries and regions, thus creating additional chances for new teams to start their esports path to stardom. The PMCO 2020 Group Stage schedule include:
India and South Asia: Friday, Feb 7 to Wednesday, Feb 12
Brazil and Latin America: Monday, Feb 10 to Saturday, Feb 15
Pakistan and Wild Card: Wednesday, Feb 19 to Friday, Feb 21 and Monday, Feb 24 to Wednesday, Feb 26
North America and Middle East & Africa: Tuesday, Feb 18 to Sunday, Feb 23
Russia | CIS, Germany, and Iraq: Tuesday, Mar 3 to Sunday, Mar 8
Europe, Turkey, and Saudi Arabia: Tuesday, Mar 17 to Sunday, Mar 22
PUBG MOBILE fans can follow all the action live via the official PUBG MOBILE esports YouTube channel here. For Southeast Asia, there will be PUBG MOBILE Pro Leagues (PMPL) coming from Friday, Feb. 14 onwards.
The PMCO is an entry gate which offers all players from amateur, semi-pro to professional levels a chance to start their esports path to stardom. The best teams coming out of the various PMCOs will have the opportunity to qualify for the PUBG MOBILE Pro Leagues (PMPL) and PUBG MOBILE World Leagues (PMWL), and even fight their way up to PUBG MOBILE World Championship (PMWC). Besides great honor, the all-year esports tournaments feature an unprecedented total prize pool of $5 million USD, which doubles the total prize money of last year's program.
Get the latest updates and news via our PUBG MOBILE Esports YouTube channel . Download PUBG MOBILE for free on the App Store and Google Play.
ABOUT PUBG MOBILE
PUBG MOBILE is based on PLAYERUNKNOWN'S BATTLEGROUNDS, the phenomenon that took the world of interactive entertainment by storm in 2017. Up to 100 players parachute onto a remote island to battle in a winner-takes-all showdown. Players must locate and scavenge their weapons, vehicles, and supplies, and defeat every player in a visually and tactically rich battleground that forces players into a shrinking play zone.