The Logitech® G513 Mechanical Gaming Keyboard.
The Logitech G513 also features LIGHTSYNC RGB, provides the choice of two Romer-G™ mechanical key switches and a premium palm rest for a comfortable experience. Logitech G continues to expand its range of high-performance gear that is purpose-built for the needs of gamers, and push innovation in RGB to new immersive levels.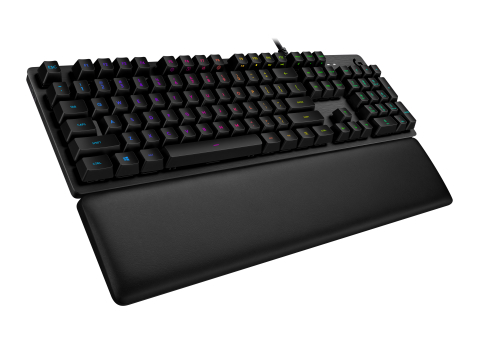 The Logitech G513 takes Logitech's award-winning design in keyboards to the next level with RGB lighting and LIGHTSYNC support. The keyboard offers the choice of two Logitech G exclusive Romer-G mechanical key switches, Romer-G Tactile and Romer-G Linear. The tactile version provides soft tactile feedback during actuation for gamers who prefer direct feedback, while the linear version gives you a smooth keystroke. All Romer G keys offer fast and quiet competition-grade performance, and bright sharp lighting, all in a key that is more reliable and durable than standard mechanical switches. The switches actuate up to 25 percent faster than the leading competitor at a distance of 1.5mm, combined with a low-force 45g actuation, to provide near-instant responsiveness.
The Logitech G513 features an anodized and brushed aircraft-grade 5052 aluminum top case for a slim, premium design with rigid durability, an integrated USB extension passthrough port and an optional palm rest to deliver comfort during long sessions.
The Logitech G513 Mechanical Gaming Keyboard is expected to be available at global retailers beginning April 2018 for a suggested retail price $149.99.