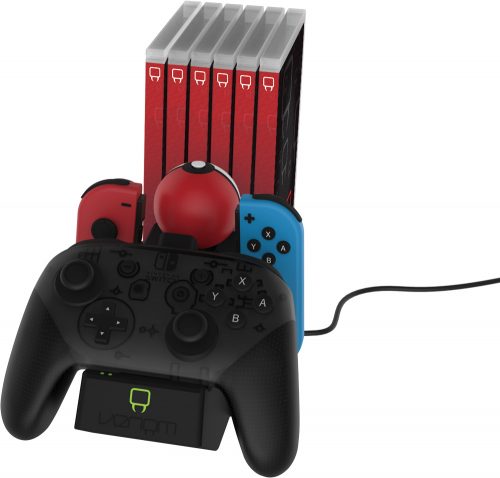 Venom announced the shipping of the Charge & Store, a new accessory designed for Nintendo® Switch™. A unique charging solution, the Charge & Store allows gamers to house all their Switch accessories together, saying goodbye to battery packs and bringing order to their gaming hardware.
Ingeniously compact in size, the Charge & Store docs two Joy-Con™ controllers, one Pro-Controller and a Poké Ball Plus™ accessory. Hassle free, the gamer needs no battery packs, simply dropping the accessories into position, ensuring that their hardware is always fully powered for even the most arduous of gaming sessions!
The Charge & Store needs no external AC adapter, powered simply by USB and connecting easily to the Nintendo Switch dock. In addition, the Charge & Store also provides handy storage space for up to six game cases, keeping hardware and software easily accessible.
With a matt black finish to perfectly match the Switch and charging indicators to reflect the charging status of each accessory, the Charge & Store is the essential accessory to any Switch gamer's collection!
Kelly Rist, Marketing executive for Venom, commented, "As the Switch continues to mature, gamers are naturally adding new hardware and software to their collection. Keeping track of the myriad of different devices is not always easy and finding out your controllers have run out of a power, is a situation no gamer wants to face! The Charge & Store presents a simple yet unique solution, storing your hardware and ensuring that your gaming is always fully charged. The Charge & Store is yet another example of why Venom is No. 1 in the UK for console charging solutions."