Activision Blizzard Esports announces the World Series of Warzone  – also known as the WSOW – where some of the biggest names in Call of Duty will participate for the largest ever Warzone prize pools.
This showcase of the top talent around the North American and European regions will see trios and duos compete across four  online  Warzone competitions, the first of their kind hosted by Activision Blizzard Esports on this scale. In its first year, the World Series of Warzone will offer $1.2 million in prize money across the four events. The first of these, a trios competition, is scheduled to be held on June 23 in the North America region.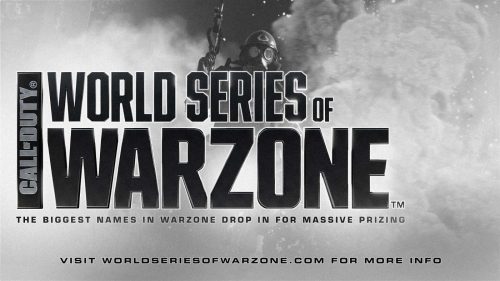 The Format
The World Series of Warzone is a draft-based event where squads earn points for each kill and for how well they place in each individual match. These squads also play for a greater team of 10 squads led by a Captain, with the top Captain Team based on all of its squad's points receiving additional prize winnings.
It all begins with five Captains – these will be some of the biggest names in Call of Duty, who will be announced at a later date. They will headline five separate teams of 10 trios or 15 duos (30 total players), including their personal trio of themselves plus two drafted players.
Players can qualify for the WSOW and be eligible for the draft in one of two ways:
1. A select portion of WSOW players will be invited by Activision. Additionally, each of the 12 Call of Duty League teams have the option to invite a squad of their choosing. Follow your favorite teams for more information on how they plan to select players to compete — and let us know who you want to see compete using the hashtag #WorldSeriesofWarzone and #WSOW.
2. Open qualifiers and select community tournaments hosted by Call of Duty League Team organizations and official WSOW program partners.
Note: No more than two Call of Duty League pro players will be able to compete on a single squad.
Once every spot is filled via qualifiers and invitations, then there is the draft. The five Captains will choose their personal squad (their trio, for the first event), then select players for the other nine trios on their larger Team. The draft will be "snake-style." This means the Captain with the first pick in the first round will pick last in the second round, while the Captain that chooses last in the first round will get the first pick in the second round.
After all five Captain Teams and every last squad is drafted, the main event begins.
Participants will earn WSOW Points for themselves, their Captain's Team (of 10 total trios) for every kill, and each squad's placement determines additional WSOW Points for their squad and team that are applied after each map with a placement multiplier.
For example, if a Trio only earns ten kills across the squad and finishes 16th-50th on a map, they will earn 10 WSOW points.
If that same Trio places 2nd-15th in the map with the same kill count, they will earn 15 WSOW points, as a Top-15 placement on a map will multiply points by 1.5x.
Finally, if that same Trio wins the map with 10 kills, they will earn 20 WSOW points thanks to a 2x multiplier for victories.
This format is built for high-intensity, high-elimination victories, and with $300,000 on the line for the first event, every shot will count.
Individual trios will compete for two-thirds – $200,000 – of that prize pool, with the trio with the most points earning the largest share for that event. The other $100,000 is up for grabs in the Captain's Cup, a fun twist on the traditional tournament format that will be led by some of the biggest names in Call of Duty.
Each of the five Captain Squads will be scored based on the aggregate point total of its 10 trio squads. The performance of each of the five Captain Squads will determine their share of the Captain's Cup prize pool, which features $20,000 to the winning captain and $1,000 for each member of the winning captain's team.
One final note: before participating in a WSOW event, all participants will need to pass an extensive and internal Activision security check to make sure their Activision accounts are in good standing. Participants found to have violated competitive integrity standards will be banned from all future Activision sponsored Warzone events and may be subject to further action.
Expect the other three events, consisting of a European Trios event and Duos events for North America and Europe, to be announced at a later date.
How to Compete
Ready to become the first World Series of Warzone champion? Then you're in luck: the first qualifier is this Monday, May 24.
If you think you have the skills to play on the biggest Warzone stage, you can sign up for free here, on the Gamebattles website to play in the World Series of Warzone Open Qualifier for trios. The winning 3-player squad will receive an invitation to compete in WSOW: Trios.
All players are subject to eligibility restrictions and the Official Rules, notably aged eighteen or older, based in North America (for the first WSOW event) and able to stream your gameplay. See the GameBattles website for more details and to register your Trio squad. Don't delay, spots will go fast, and spots are available on a first come, first serve basis.
Additional qualifiers for the remaining WSOW events will be announced later.
Visit the Call of Duty blog for updates around the World Series of Warzone, including when additional qualifiers will be held, how to tune in, and more.