Chris Evans, star of the worldwide hit Captain America movie franchise, and Tom Holland, who portrays Spider-Man in the Marvel hits "Spider-Man: Homecoming" and "Captain America: Civil War" are headlining the new ACE Comic Con Arizona at Gila River Arena, Jan. 13-15, 2018.
Along with Evans and Holland, other confirmed guests include Sebastian Stan (The Winter Soldier – Captain America), Anthony Mackie (The Falcon – Captain America), Hayley Atwell (Agent Peggy Carter – Captain America), Laura Harrier (Liz – Spider-Man: Homecoming), and Jacob Batalon (Ned – Spider-Man: Homecoming).  More guests will be announced soon, including superstars from World Wrestling Entertainment (WWE).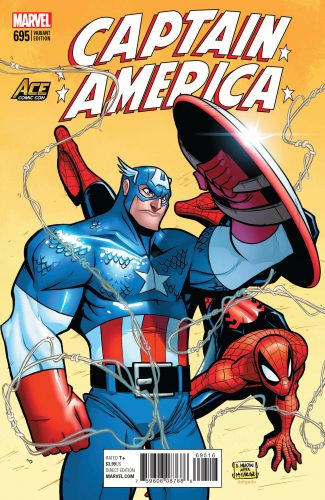 VIP Admissions, Photo Ops and Autographs are on sale now at www.aceuniverse.com.  General Admission Tickets can be purchased online at Ticketmaster (www.ticketmaster.com) starting at 10 a.m. PST on Tuesday, Oct. 10. Additional ticketing information also can be found at www.aceuniverse.com.
"When we first went to Gila River Arena, we knew we had found the right home for our next big event," said Gareb Shamus, ACE Universe Chairman and CEO.  "We believe the fans will fall in love with this new style of Comic Con and we can't wait for everyone to enjoy everything the weekend will have to offer, which includes the opportunity to watch all of the can't-miss programming on the arena Jumbotron."  ACE Universe has secured an exclusive Marvel Comic variant cover to Captain America #495, drawn by Good Charlotte lead guitarist and illustrator Billy Martin.  This book is exclusive to box office buyers and VIPs.  Martin will be on hand all three days to sign the books, which feature Captain America and Spider-Man, in an homage piece of art to the great Todd McFarlane.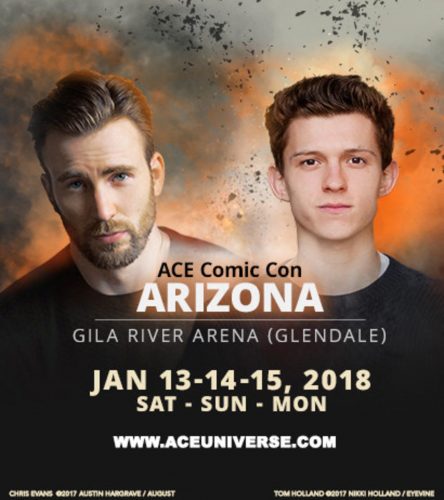 "Chris Evans, Tom Holland and the casts of both films are global box office stars that provide fans a once-in-a-lifetime opportunity to meet and greet with their favorite super heroes," said Stephen Shamus, President of ACE Universe.  "When you listen to the fans, these are the stars that are most requested, so securing the main cast members from both Marvel franchises makes this a can't miss weekend.  We also haven't forgotten the WWE fans, some of the most excitable fans in the world."