In the first season of Organized Play for Eternal, thousands of players competed in a series of qualifier tournaments that culminated in crowning Adreus as the first ever Eternal World Champion. With the release of The Flame of Xulta, the road to the 2020 Eternal World Championship begins, with a $100,000+ prize pool up for grabs!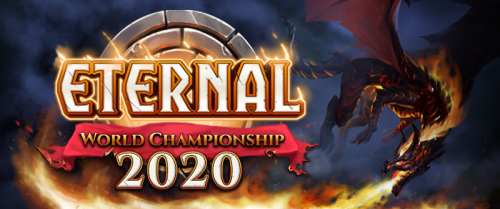 There are some important format and structural changes coming in the second season of Eternal Organized Play. Here's what you need to know:
Eternal Championship Qualifiers (ECQs) return in a series of nine tournaments that qualify players for the Eternal World Championship!
Like last season, each ECQ consists of two stages: the Qualifiers (open to all players) and the Finals (the Top 64 players emerging from the Qualifiers).
The winner of the Finals receives an invitation to the 2020 Eternal World Championship.
The first ECQ of the 2020 season will take place November 16-17 and use the updated Expedition format: The Flame of Xulta and cards found in Draft Packs will be legal for play.
Our second ECQ will take place December 14-15 and use the Throne format, as played in Ranked.
Each calendar quarter will also see a series of Quarterly Championship tournaments that both qualify players for the Eternal World Championship: one using the Expedition format and one using Throne.
Quarterly Championships are two-day events that are only open to players who qualify by earning Quarterly Championship Points (QCP).
The first Quarterly Championships will be a pair of two-day events each separately featuring Expedition and Throne formats, and featuring a $4,500 prize pool. Qualification for the Quarterly Championship begins with the October 2019 Leaderboard.
Players who accumulate 25 or more QCP are eligible to enter the first Quarterly Championship. Players with 75 or more QCP receive a bye for the first day, and qualify directly for the Top 64 Finals on day two.
Players can earn Quarterly Championship Points (QCP) based on their final leaderboard standings each month:
Players can also earn QCP based upon performance in designated weekend Events held throughout the season. More news about QCP-earning Events will be coming soon!
QCP points accrued from October 1, 2019 – December 31, 2019 will be used to qualify, starting with Expedition and Throne Ranked Leaderboard finishes this month.The 2020 Eternal World Championship
The 2020 Eternal World Championship will be open to 24 players who have competed successfully at the highest levels of Eternal. In addition to players who qualify via ECQs and Quarterly Championships, a small number of other opportunities to qualify will be held throughout the year.
The 2020 Eternal World Championship will consist of a $50k prize pool, and details and structure will be announced at a later date.