Beginning December 2 with the arrival of Chapter 2 – Season 5, Epic is launching Fortnite Crew, the ultimate subscription offer for getting can't-miss Fortnite content.
Joining the Fortnite Crew gets members everything below for only £9.99 each month:
Battle Pass Included for the full Season – As a member of the Fortnite Crew, you'll always have access to the current season's Battle Pass!

1,000 V-Bucks Each Month – Fortnite Crew members will receive 1,000 V-Bucks every month. Spend it on your favourite Item Shop content!

Get A New Monthly Crew Pack! – Get an exclusive Fortnite Crew Pack, an always-new Outfit Bundle that only Fortnite Crew members can get.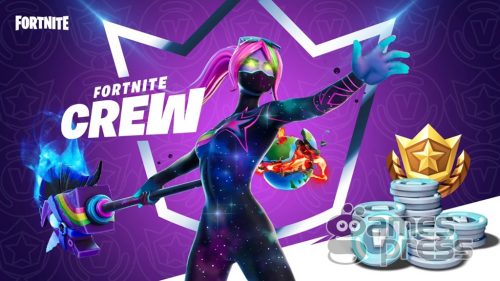 When Fortnite Crew launches on December 2, subscribed members of the Crew will be the first to get this all-new exclusive Galaxia Outfit and Style plus the Cosmic Llamacorn Pickaxe and Fractured World Back Bling.
A Fortnite Crew subscription can be purchased in Fortnite from the Item Shop or Battle Pass purchase screen, and players can cancel anytime.
You can find more details in the frequently asked questions below. Please let me know if you have any other questions!
Fortnite Crew FAQs
What's in a Crew Pack?
Monthly Crew Packs always contain a new Outfit along with at least one accessory. All items are exclusive to Fortnite Crew members.
What does it mean that Crew Packs are exclusive?
Crew Packs and the items they contain are only available to Fortnite Crew subscribers. They will never be sold or given away to non-Crew members.
How can I purchase the Fortnite Crew subscription?
The Fortnite Crew subscription can be purchased directly from the Item Shop or Battle Pass purchase screen.
How can I cancel my Fortnite Crew subscription?
You can also cancel your Fortnite Crew subscription at any time. Go directly in-game and check out the Fortnite Crew tab to guide you based on your active game device.
Even after cancelling, your membership will remain effective until the end of your current billing period. You will keep all previously awarded Battle Passes, V-Bucks, and Crew Packs. If you decide to come back to the Fortnite Crew, you can rejoin in-game on any platform.
What happens if I already purchased the current season's Battle Pass or Items in the Crew Pack prior to subscribing to Fortnite Crew?
If you already purchased the current season's Battle Pass, 950 V-Bucks will be returned to your account.
Can I still purchase a Battle Bundle?
The Battle Bundle has been replaced by a bundle of 25 levels, available for 1,850 V-Bucks. The offer is available to players at level 75 or lower at any time, once per season. This bundle can be packaged together when buying the standard Battle Pass by itself, or purchased after buying the standalone Battle Pass or acquiring it as a member of Fortnite Crew.
How do I update my billing information for my subscription?
Refer to the billing instructions from your platform of choice. If you subscribed on PC or Android, you may update your billing information in the Subscription section.
Why can't I see Fortnite Crew in the game?
If you're unable to see the Fortnite Crew option in-game starting December 2nd, your platform, country (or combination of both) or available payment methods may not be supported at this time. We'll keep working on adding more options as time goes on.