Guild Esports announced the signing of world leading female content creator Niki 'Nihachu', further bolstering its rapidly growing creator and entertainment roster.
Nihachu, at only 19 years old, has established an incredible social media audience of over 5.5 million combined followers across Twitch, YouTube, TikTok, Instagram & Twitter. She has gathered her widest audience on Twitch, where since November 2020, she has grown her fanbase from 500k, to 1.6m and is currently #26 on the platform's fastest growing streamers, ahead of the likes of Pokimane and NickMercs.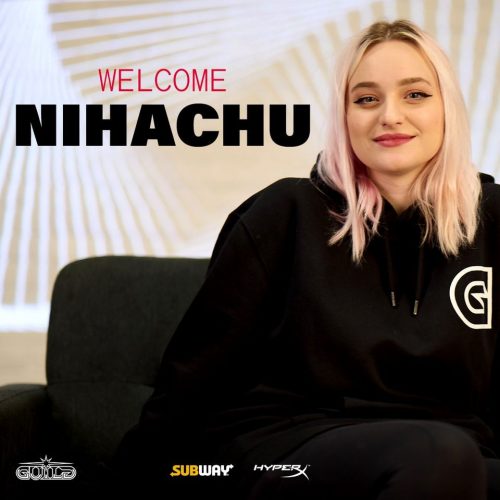 Nihachu is a leader in the ever-growing variety streaming sector – amassing her loyal community through playing the likes of Minecraft and Among Us. She also regularly hosts Just Chatting sessions to thousands of concurrent viewers, building lasting relationships with both her guests and audience. Her commitment to entertaining and talking directly to her fans aligns with Guild's vision to celebrate the loyalty of esports and gaming communities worldwide.
As part of Guild's content creator roster, Nihachu joined Guild's very first Super Stream Sunday, and will produce original content across channels, attend live events, and work alongside Guild's partners and wider community of creators and professional athletes. Nihachu joins fellow leading creator Gee Nelly at Guild, and like Gee, will use her expertise to create a wealth of high-quality gaming and entertainment content for Guild's fans.
The signing of Nihachu follows a string of other creator signings designed to bring Guild fans the very best entertainment, including Stevie White, TN25 & SoMarcus.
Danny Lopez, Guild's Director of Brand & Content commented,"We have set out to lead the way when it comes to building best-in-class content creator teams across the world of esports and adding Niki to the guildgang is a big step for us in delivering on this mission. We've set the bar high within our own content creation across the industry and don't plan on slowing down. Adding more original content led by our creators – so watch this space for exciting updates from Niki and the gang."
Niki Nihachu added, "I'm so excited to get started at Guild and work with Gee, Stevie and so many other brilliant creators, streamers and gamers. Everyone in the industry has seen the amazing work Guild have been doing over the last year – and it's such a great opportunity for me to contribute to this and create quality content that Guild fans will want to see".