Blizzard Entertainment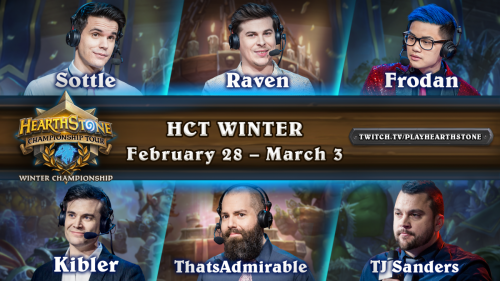 Over the last several weeks the best Hearthstone players from North America, Europe, Asia-Pacific, and China have emerged from regional playoffs to claim their spots at the HCT Winter Championship. The four qualified players from each region will duke it out to decide who will take home the title of HCT Winter Champion, the lion's share of a $250,000 prize pool, and a sizable portion of the 251 Hearthstone Competitive Points (CP) up for grabs.
The HCT Winter Championship will be broadcast live from Blizzard Arena Los Angeles. With the 2019 Overwatch League season occupying Studio 1, HCT Winter will be produced from Studio 5. While this section of Blizzard Arena is unable to accommodate a studio audience, we are excited for our players to compete in a live, face-to-face setting, and we can't wait to put on a great show for viewers worldwide.
The HCT Winter Championship will begin with a double-elimination group stage, followed by a single-elimination playoff bracket. Each group will consist of four competitors, one from each region. Each match will be best-of-five using the Conquest format with one class ban, so each player must bring four decks. Groups will be seeded based on CP, with the top point earner from each region placed in his or her own group, and the remainder filled out based on the order of the players' regional seeds.
Broadcast Dates and Times:
Feb. 28–March 3 from 8:30 a.m.–8:30 p.m. PT daily
Broadcast Channel:
More information on our plans for the 2019 season, including the new competitive format, will be revealed on Feb. 19. After that, keep a lookout for another opportunity to win some Hearthstone packs with Choose Your Champion, which will go live on Feb. 20, a week before HCT Winter begins.
Watch live video from PlayHearthstone on www.twitch.tv