1939 Games, the creator of KARDS, a digital collectible card game drawing familiar elements from the card game genre, fused with classic WWII gaming, will host the KARDS World Championship final competition this weekend in Reykjavík at the 1939 Games headquarters where four finalists will fight to be crowned the top player. Over the past three months, more than 1,000 players from around the globe have battled to reach the finals for a chance to compete for part of the $6,500 prize pool, and now only the four best remain. Tune in to the KARDS Twitch channel at 3:00 p.m. ET on Saturday and 2:00 p.m. ET on Sunday to see which one of these players will outmanoeuvre and outgun their opponents to be crowned the world's top player.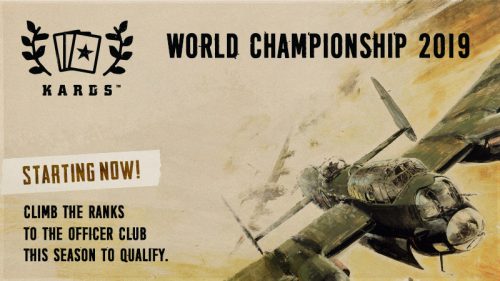 "KARDS is an elegant, action-packed and fun card game that players continue to rave about in their Steam reviews," said Ivar Kristjansson, CEO of 1939 Games. "We're thrilled that over 1,000 people joined the KARDS World Championships to showcase the strategy, tactics and action that the game is all about."
KARDS provides gamers a familiar style of play that makes it easy for anyone to pick up and play, while providing innovative gameplay mechanics that give strategic depth and tactical opportunities enabling continuous iterations of the game. Players build up armies of iconic tanks, aircraft, infantry, artillery and more from all theaters and periods of WWII. KARDS artwork provides an authentic feel for the game, using real-world propaganda posters, artwork and a soundtrack of the era.