Linksys® announced the newest addition to the WRT™ product series – the Linksys Gaming Router designed for Xbox One® – WRT32XB and new software enhancements to prioritize gaming on any device that will be available for the currently selling WRT32X and the new WRT32XB router.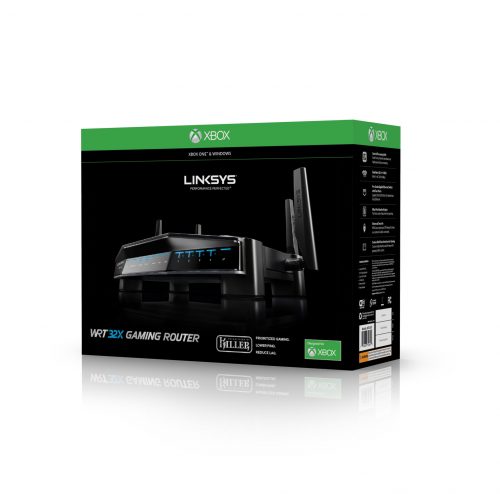 The New WRT Gaming Router Designed for the Xbox One Family of Devices (WRT32XB)
Linksys and Rivet Networks teamed again on the new WRT32XB, the only router optimized for high-speed gaming when using Xbox One.  The WRT32XB router incorporates the Killer Prioritization Engine (KPE), which will auto-detect any Xbox One, including Xbox One S and Xbox One X, and prioritize gaming packets automatically to provide serious console gamers with the best online gaming experience. The Killer Prioritization Engine identifies, prioritizes and accelerates Xbox gaming network traffic from any Xbox One console above all other devices in the home to deliver lower ping times and optimize online gaming. The KPE protects Xbox gamers from extreme lag spikes at the router level and reduces peak ping by up to 65% on Xbox One consoles, delivering consistent and superior reaction time during intense gaming scenarios.* The new user interface and firmware is also custom-built for gaming traffic control.
"Integrating Killer Networking technology into a new Linksys WRT router specifically for Xbox One gamers is a first for the console gaming industry and it shows that advancements are being made to enhance the gaming experience on all platforms," said Bob Grim, vice president of marketing and business development at Rivet Networks.  "For the first time, gamers will have a router that is designed specifically to prioritize Xbox One packets as well as their Killer-enabled PCs to identify and prioritize important gaming network traffic and ensure their gaming experience is fast and smooth no matter what else is going on in their home network."
Linksys WRT32X Enterprise Grade Hardware
The WRT32XB router starts with enterprise grade hardware: 1.8 GHz Dual-Core ARM CPU, 802.11ac Wave 2 Dual-band 3×3 wireless radio, 256MB Flash and 512MB of DDR3 Memory, and 5-port SOHO-grade Gigabit Ethernet switch with TCAM.  For the software, the core firmware level uses the latest stable Linux kernel version for a streamlined and lightweight code base with low latency as the top focus. The secret ingredient and key innovation is the integration of the Killer Prioritization Engine.
WRT32XB Router Key Benefits:
Wi-Fi router built purely for gaming which identifies, prioritizes and accelerates Xbox One gaming and all gaming traffic
The WRT32XB router will also provide synchronization with Killer-enabled PCs to provide gaming traffic a priority on wired and wireless connections
Prioritization engine powered by Killer Networking delivers up to 65% reduction* in peak ping on Xbox One for faster response time
Blazing fast 1.8GHz Dual-Core processor for simultaneous high-speed data processing
Custom-built gaming user interface and firmware specially tuned for online gaming traffic
Product Technical Specifications:
Wi-Fi Technology: AC3200 MU-MIMO
Network Standards: 802.11a/g, 802.11n, 802.11ac
Wi-

Fi Speed

: AC3200 (N600 + AC2600) ‡
Wi-Fi Bands: 2.4 and 5 GHz (simultaneous dual-band)
DFS certified for operation in the clear DFS channel airspace
5-port Pro-grade Gigabit Ethernet ports: 1x Gigabit WAN port, 4x Gigabit LAN ports
Other: One (1) USB 3.0 port, One (1) Combo eSATA/USB 2.0 port, Power
Antennas: 4x external, dual-band, detachable antennas
Processor: 1.8 GHz dual-core
Memory: 512MB DDR3 RAM / 256MB Flash
Wireless Encryption: WPA2 Personal
VPN Support: PPTP IPSec pass‐through
Storage File System Support: FAT, NTFS, and HFS+
Browser-based Setup and custom graphical user interface
Linksys and Rivet Networks Collaborate to Improve the Already Best-In-Class Gaming Prioritization
Linksys and Rivet Networks are improving the Killer Prioritization Engine (KPE) to cover more devices. With automatic software updates that will roll out throughout the first half of 2018, the Linksys WRT family of gaming routers, including the WRT32X and WRT32XB, will now optimize gaming across all platforms – PCs, consoles, and mobile.   This means that users gaming on any device will get their gaming prioritized as #1 over all other traffic on the network, providing for a better online gaming experience with less lag.  This is done by moving the application level stream detection onboard the router which intelligently and autonomously recognizes the network traffic from all devices coming into the router and prioritizes the traffic for a fully dynamic quality of service to reduce latency while gaming – no matter what else is happening on the network.
La Duca added, "The Global Gaming Market Report from Newzoo reports that in addition to console gaming, mobile gaming is the fastest growing gaming segment at 32% spending more than $35 billion this past year, and with Killer Prioritization now detecting gaming traffic on mobile devices, the WRT32X is the best gaming router for this growth area of online gaming."
Also included are stylized improvements to the user interface to reflect the new Killer Prioritization Engine, as well as improved network traffic and speed test visualizations. The WRT32X will give gamers the advantage of faster frags and lower ping times.
Pricing and Availability
The new Linksys WRT Gaming Router –  WRT32XB is planned for availability in the USA for an estimated MSRP of $299.99 starting in February 2018.
The new software enhancements for both the WRT32X and WRT32XB are planned to roll this spring globally.