ViewSonic Corp., a leading global provider of visual solution products, introduces its next generation of gaming and entertainment monitors to its award-winning lineup. These new XG and VX monitors deliver the ultimate in fluidity and fast response times for motion-based content, whether playing the latest first-person shooter (FPS) game or bingeing on the latest television series on any streaming service. Packed with the latest display technologies and enhancements, the new ViewSonic® gaming monitor models include: XG2560, XG3220 and XG3540C; and the entertainment models include: VX2758-C-MH and VX3258-2KC-MHD.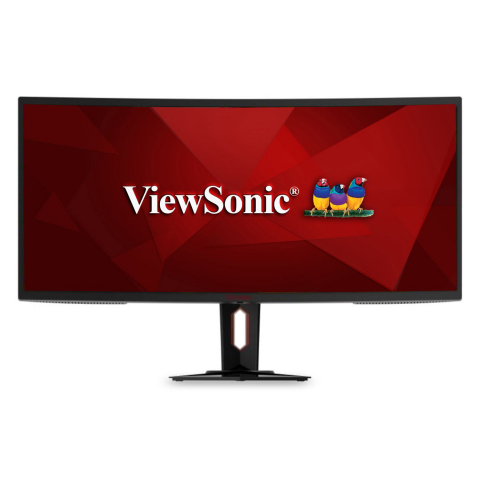 XG Gaming Monitors
ViewSonic expanded its gaming monitor portfolio to deliver a paramount immersive experience for playing a variety of games. The XG2560 is a 25-inch monitor with Full HD 1080p resolution, NVIDIA G-SYNC™ technology, and a 240Hz refresh rate. With Ultra HD 4K resolution, the XG3220 is a 32-inch monitor that features HDR10 (High Dynamic Range) support and AMD FreeSync™ technology. The XG3540C is a 35-inch curved widescreen display with a 21:9 aspect ratio, Ultra-Wide QHD (3840×1440) resolution, and a refresh rate of 100Hz. Each monitor comes with a feature called Game Mode with customizable settings to provide gamers the ability to fine-tune the monitor to specific preferences, and offers special color support for different game genres. The company's exclusive Black Stabilization Technology provides amplified visibility and detail by brightening darker scenarios while maintaining natural contrast across the screen.
With a lightning-fast 1ms response time, the XG2560 is the perfect monitor for gamers looking for minimal input lag and speed with FPS, MMORPG and other fast-moving games, where hustle and quick-paced decisions are made. A customizable 22-level black stabilization function helps in focusing in on targets in the dark while the monitor maintains rich colors and contrast.
The XG3220 features UHD 4K resolution and HDR10 decoding ability to deliver the ultimate in color and details of any game. The 1800R curvature and ultra-wide viewing angles ensure content is visible from just about any vantage point. With FreeSync technology to minimize screen tearing and the 60Hz refresh rate to ensure smooth game play, the XG3220 supports the latest generation of gaming consoles, such as the XBOX One X and PS4 Pro.
ViewSonic's XG3540C is all about immersing one's self in the gaming experience with this giant ultra-wide 21:9 gaming monitor. The 3840×1440 resolution and 1800R curvature bring just about any PvE, PvP, quest or quick time event to life. With its 100Hz refresh rate and super-fast 4ms response time, gamers' capabilities to be more aware of their responsiveness to the strategies and tactics becomes more tangible.
All three monitors come with HDMI and DisplayPort connections for flexibility with various gaming systems and consoles. Connect to different peripherals to complete the immersive gaming experience with the multiple USB 3.0 Type A/B inputs and Audio Out ports. The resolution options, faster response times and refresh rates provide a super smooth experience, so that gamers can focus on speed, accuracy and visibility. Inspired by gamers, the XG Series was built for comfort for the long-lasting missions and sessions. From tilt/swivel to rotation and height adjustment, as well as an ergonomic stand that has an integrated headphone hook and cable management functionality, the XG gaming monitors have all the checks needed to make each game an event.
ViewSonic affirms its commitment to delivering the best gaming monitors, as the front-of-screen performance is of utmost importance to any type of PC or console game. A great gaming monitor will provide incredible color and awesome graphics to keep players engaged, but will also offer fast responsiveness and silky-smooth performance for fluid gameplay even through the most action-packed sequences.
VX Entertainment Monitors
Combining the best features of ViewSonic gaming and professional grade monitors, the new eye-catching curved screen monitors VX2758-C-MH and VX3258-2KC-MHD feature super-fast 5ms response times, 144Hz refresh rates, consummate color reproduction and AMD FreeSync technology. The VX2758-C-MH is a 27-inch curved monitor with Full HD resolution allowing full-screen engagement for playing video games and/or watching/streaming videos, movies and other 1080p content. The ViewSonic VX3258-2KC-MDH is a 32-inch curved screen with QHD (2560×1440) resolution that produces detailed colors and contrast that showcases games as intended by developers.
With the 144Hz refresh rate, the VX2758-C-MH and VX3258-2KC-MHD reduce motion blur throughout the entire screen, making these monitors ideal for a variety of gaming scenarios including FPS, RTS, and MOBA. FreeSync technology ensures smooth, tear-free gaming so gamers can react instantly and in the moment. With the 1800R curvature, the two monitors deliver a captivating and distinct visual experience.
"ViewSonic engineered these monitors to transport the consumer, making them feel completely immersed, whether gaming or watching their favorite show," said Kenneth Mau, senior product manager of displays for ViewSonic Americas. "Our new monitors provide the best in screen performance with features and technologies that deliver the ultimate viewing experience. Whether you're a die-hard gamer or looking for a screen that can reproduce the finer details in a movie, these new XG and VX monitors will definitely enhance your viewing experience."
| | | | | | | |
| --- | --- | --- | --- | --- | --- | --- |
| Model | | | Estimated Street Price | | | Availability |
| XG2560 | | | $573.00 (USD) | | | January 2018 |
| XG3220 | | | $629.00 (USD) | | | March 2018 |
| XG3540C | | | $739.00 (USD) | | | Q3 2018 |
| VX2758-C-MH | | | $266.00 (USD) | | | February 2018 |
| VX3258-2KC-MHD | | | $409.00 (USD) | | | March 2018 |