The British Esports Association has launched a brand new campaign to celebrate females within the esports industry. From casters to professional players, marketeers to production specialists and more, there is a vast amount of talent in the esports industry to shout about.
30.4% of esports viewership is made up of women, according to a report by Interpret in Q4 2018, and that number has risen by 6.5% over the past three years. But there is still plenty of room for growth, not to mention a lack of female esports players at the top level.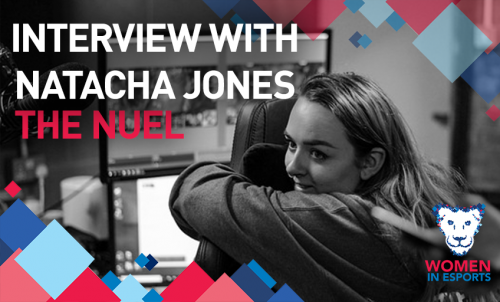 Several females have taken part in the British Esports Championships for schools and colleges, including a few from the Farnborough Falcons League of Legends and Overwatch teams who played at the live finals at the NEC in Birmingham. There was also an all-female Overwatch roster competing in season 2 from Carmel College.
It's showing that the interest in esports for females is rising, and the British Esports Association wants to provide an initiative to help support females who are aspiring to be professional gamers as well as those looking into career prospects.
Through this campaign, British Esports wants to help raise awareness and improve inclusivity in esports similarly to other organisations such as Women in Games/Women in Esports, Women of Esports, AnyKey, FemaleLegends and more. It hopes to work alongside them to promote diversity together.
As a national body, its aims are to support esports and provide expertise and advice. To be able to provide balanced advice, it has decided to launch this campaign to get perspectives from females within the esports industry. The campaign will cover the British Esports Association's key aims:
To promote esports in the UK and increase its level of awareness
To improve the standard of UK esports
To inspire future talent
The Women in Esports campaign will be something British Esports does continuously as an organisation and has no campaign end date.
The Association will be running numerous activities throughout the Women in Esports campaign, such as a selection of social media campaigns, interviews across the website, Twitch channel, YouTube and much more.
The campaign is led by British Esports Association schools and colleges liaison officer Alice Leaman and marketing manager Morgan Ashurst.
Morgan Ashurst said: "It's pinnacle at the British Esports Association that we are providing advice from numerous perspectives. The challenges and experiences I have faced personally are something for other females to be aware of when entering the scene and worthwhile knowledge to pass over to aspiring esports fanatics."
Alice Leaman added: "By celebrating and supporting women in esports we can help raise awareness of the accessibility and inclusivity of esports. Competitive videogaming is enjoyed by diverse audiences worldwide, and by learning about different women involved, and how many have overcome challenges, we can help support wider UK talent to get involved from the grassroots up."
British Esports have kicked off the campaign by interviewing Natacha Jones, Creative Director at the NUEL, who previously worked at British Esports. The NUEL have been providing national championships for universities since 2010, where the best players have the opportunity to play live in front of a crowd at an annual event: NUEL Live. Read the full interview here.