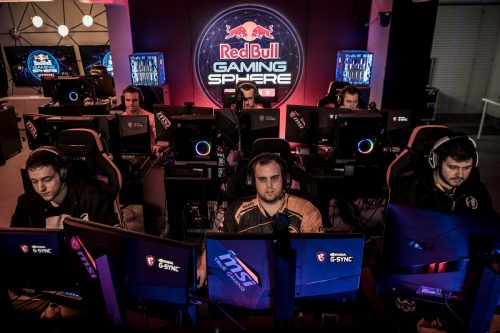 Powerhouse esports organization Method have officially achieved their 11th World First victory live from the Red Bull Gaming Sphere in London, defeating all nine bosses in the newest WoW raid before any other guild. The Race to World First for Battle of Dazar'alor began last Thursday (31/01/19) and Method defeated the final boss, Mythic Jaina Proudmore, live in front of fans on Twitch on Tuesday (05/02/19). Method were the first guild to ever broadcast a Race to World First when they defeated Battle for Azeroth's opening raid, Uldir, in record time from the Red Bull Gaming Sphere in September last year.
Sco, Gingi, Narcolies, Chrispotter, Perfecto, Deepshades and Cayna, part of the 20 man Method raid guild, battled it out tirelessly to become the first guild in the world to take down Mythic Jaina. The Race to World First saw over 230k views across the Method Twitch channels, with Method's official channel and guild master Scott "Sco" McMillan's channel combined seeing 4.49M hours watched last week alone (28/01/19 – 03/02/19.)
"We're incredibly proud to have achieved another World First. To see such amazing success in terms of viewership a second time around confirms that we're onto something special by sharing our progress with the community," said Scott 'Sco' McMillan, Co-Founder, Method. "The Red Bull Gaming Sphere has become the perfect base for us to attempt World Firsts. We've spent over 96 hours in the space during this raid alone, and having a comfortable environment that's purpose built to support gaming definitely gave us a competitive edge. Not to mention the unlimited Red Bull to keep us alert and focused throughout."
Method were the first organization to recognize the viewership potential of a Race to World First in September when they live streamed their defeat of mythic G'huun, the final boss in Battle for Azeroth's first raid from the Red Bull Gaming Sphere. Both of Method's Race to World First streams have seen fantastic viewership and represent an exciting new direction for the esports scene, spearheaded by a world renowned esports organization in Method.