The World Showdown of Esports (WSOE) a multi-genre, multi-game tournament series produced by Estars Studios, and Method, a premier World of Warcraft (WoW) esports organization based in the U.K., partner to produce the Classic Race to World First (RWF), streaming 24/7 live Aug. 26 – Sept. 2, 2019 from the PokerGO Studio (ARIA Resort and Casino) in Las Vegas. The fully interactive 24-hour coverage on twitch.tv/method and twitch.tv/WSOE will feature a mix of world-class speed levelers and content experts from the Classic WoW community, as well as some of the top WoW streamers on Twitch racing to achieve notable "firsts" in WoW Classic, to be released in the U.S. on Aug. 26, 2019.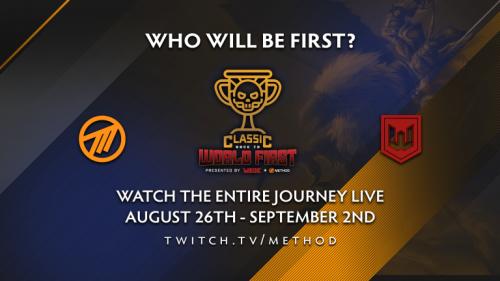 "The WSOE and Method partnership will bring unforgettable action, nostalgia, and around-the-clock entertainment to the World of Warcraft community," said Christian Bishop, WSOE commissioner. "We look forward to bringing WSOE's signature high-quality production value to yet another gaming genre."
Participants in the Classic Race to World First will seek to be the first players to level their personal characters to Level 60, then attempt to lead their guilds comprised of players from around the world to be the first group of 40 players to defeat the legendary "end bosses" Ragnaros and Onyxia. Featured players include WoW legends Esfand and TipsOut, as well as Twitch personalities Sco, Zizaran, Maldiva, Hotted, and Djarii along with some special surprise guests. The talent desk will feature leading personalities Mike "Preach" Lamb, JB "Jdotb" Daniel, Sid "Supatease" Compton, Adam "Finalboss" Knych, Daniel Falcone, Daniel "MrGM" Carter, and Michael "Nano" Wilson.
"Bringing the Classic Race to World First to the WSOE calendar of events in Las Vegas is incredibly exciting for all of us at Method. After two Race to World First events in Europe, it feels fantastic to bring an event to U.S. soil," according to Shanna "Darrie" Roberts, General Manager of Method. "The passion of the WoW fanbase is unparalleled and we are confident that Estars Studios is going to help us not only live up to the expectations of the fans, but exceed them."
Method is a global esports organization, competing professionally in World of Warcraft (Raiding, Mythic Dungeon International, and Arena World Championship), Rocket League, Fortnite, PUBG Mobile, and Path of Exile. Method is the most-watched Twitch stream in Europe and has broken records for their Race to World First events in both 2018 and 2019. Method's WoW raiding guild (Tarren Mill-EU) has won 12 World First End Boss Kills since 2005, including the most recent RWF, the Eternal Palace, completed on July 28, 2019.
Fans can follow the 24/7 action with live commentary and casting on twitch.tv/method. WSOE will feature different player perspectives, unique content, and more simultaneously on twitch.tv/WSOE. To see a full list of Classic Race to World First players and talent, visit Method.gg.
Watch live video from WSOE on www.twitch.tv