By Lolesports Staff
The All-Star LoL Event will return to the Esports Arena in Las Vegas from December 5th-7th. The 2019 All-Star Event is a celebration that brings the best professional players and the biggest personalities from League of Legends together for a three-day event featuring competitive tournaments, charity events, and unique game modes.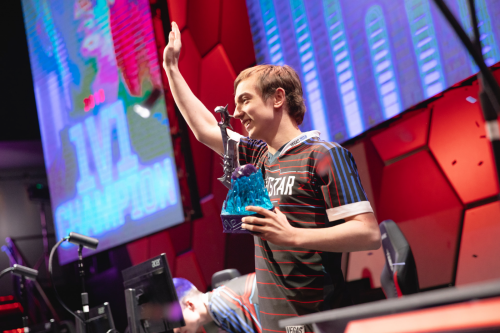 We're also thrilled to share that the 2019 All-Star Event will feature a Teamfight Tactics (TFT) competition featuring top players and influencers.
Last year, fans of each of our competitive leagues voted for 30+ pro players to attend the All-Star Event and represent their respective regions. Additionally, for the first time ever, the 2018 All-Star Event invited more than 60 members of the League of Legends Partner Program to compete against and alongside Pro Players in a variety of game modes and tournaments.
The 2018 All-Star Event saw Caps from the LEC defeat Pabu from the OPL to win the 1v1 Tournament. 
WHO WILL BE ATTENDING?
A pool of approximately 64 All-Stars including:
2 pros from each esports region, as voted by fans
6 pro player "All-Star Invitees", chosen by Riot after the conclusion of the fan vote
League Partners (streamers, prominent LoL community members, etc.) from around the world, selected from the League Partner Program
Some of the biggest and best TFT personalities from around the world
The All-Star Event is a celebration of the entire League community, and for the first time ever, we will be featuring multiple Teamfight Tactics matches with select members of the League Partner Program, Pro Players, and personalities from the global TFT community. These could be some of your favorite streamers, cosplayers, content creators, and more. The full roster of partners who will be participating will be announced before the start of the event.
We also want to make sure that it remains a globally inclusive event that every fan across the world can enjoy. For this reason, we'll be bringing participants (both pros and partners) from all of our esports regions. Here's how those pros will be chosen:
Fans will vote for two pros from their regional league to send to All-Star. Any pro who played in the most recent competitive split will be eligible;
Fans may cast votes for other regions as well, though foreign votes will be weighted to make up no more than 20% of the total vote within any given region;
Top 2 vote-getters (regardless of team or role) in each region will be invited to participate at the All-Star Event;
Standings updates will be provided on LoL Esports social channels and the voting site.
Voting will be open for approximately a week. Keep your eyes on Lolesports.com and LoL Esports social accounts for exact start and end times of the voting period.
Doublelift & Voyboy won the 2v2 Charity Tournament, raising $100,000 to support mental health efforts around the world. 
WHAT WILL THEY BE PLAYING?
All-Star 1v1 Tournament
TFT Tournament
5v5 Summoner's Rift
Show Matches
URF mode (original blind pick, not ARURF)
Tandem mode
The All-Star Event creates a setting that celebrates both personalities like Tyler1 and legendary pros like Faker. 
With the addition of Teamfight Tactics, the 2019 All-Star Event promises to be an incredible event that will feature more members of the League community than ever before. We're excited to celebrate an amazing year in League and League esports with fans from around the world. It's bound to be full of surprises including a few sneak peeks and spotlights of new League content. Stay tuned for more details.