Major global automotive brands and teams have signed up to enter factory teams in Torque Esports'  The Race All-Star Series powered by ROKiT Phones, which kicks off a new five-round championship this Saturday.
Mercedes-Benz-AMG Petronas Esports, Aston Martin, BMW, Williams Esports, and ROKiT Venturi Racing will all enter two-car teams in the Pro Cup championship which runs as part of the All-Star Series.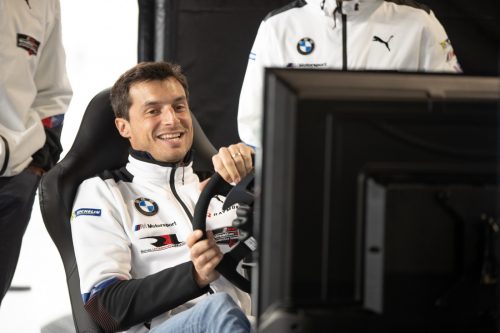 After completing its first three-round championship last weekend, The Race All-Star Series powered by ROKiT Phones will again feature major global television coverage with the Disney-owned ESPN in the US.
Existing content partnerships with Discovery Inc.-owned Eurosport will place the racing action on TV, and online and highlights will also be shown on more than 70 different global networks reaching a potential audience of more than 610 million homes.
The new series also will be shown on The Race's YouTube channel.
Season two of the All-Star Series will feature a revised championship format with professional drivers, esports racers, and legends trophy entrants contesting their own championship. Each championship division will include a qualifying session prior to the first race and then a reverse grid battle – all shown during the broadcast.
"The fact that we've been able to attract these incredible factory teams is remarkable and shows how we've really established the All-Star Series as a bona fide international motorsports championship and a highly attractive television property," Torque Esports President and CEO Darren Cox said.
"These brands have won some of the biggest races in the world and now they are looking to esports and the All-Star series as a global showcase. We've got five teams locked in already and great interest from a number of others."
More than 80 drivers compete virtually every week in The Race All-Star Series powered by ROKiT Phones on the rFactor 2 platform.
The Legends Trophy competition will again feature leading stars from the world of Formula 1, INDYCAR, the World Rally Championship and the 24 Hours of Le Mans.
Entrants will include Formula 1 World Champions Jenson Button and Emerson Fittipaldi; Indy 500 winners Dario Franchitti, Helio Castroneves, Juan Pablo Montoya, Gil de Ferran, and Tony Kanaan; World Rally Champion Petter Solberg and 24 Hours of Le Mans winners Emanuele Pirro, David Brabham, Jan Magnussen, and Darren Turner.
The Sim Masters series includes top simulator drivers from around the world. World's Fastest Gamer finalist Erhan Jajovski will return as All-Star Sim champion for series two. Top drivers from last season will again chase the points championship with rFactor 2 gamers from around the world able to race their way into the competition each Thursday in a qualifying time-trial session.
About Torque Esports
Torque focuses on three areas – esports data provision, esport tournament hosting and esports racing.
Torque aims to revolutionize esports racing and the racing gaming genre via its industry-leading gaming studio Eden Games which focuses on mobile racing games and its unique motorsport IP, including World's Fastest Gamer (created and managed by wholly-owned subsidiary IDEAS+CARS, Silverstone UK). With the proposed acquisition of simulator company AiS – Torque offers gamers everything from free-to-play mobile games to the highest end simulators.
Building on the leading position of Stream Hatchet, a wholly-owned subsidiary, Torque also provides robust esports data and management information to brands, sponsors, and industry leaders. Its tournament organizing arm, UMG, has recently added a digital tournament platform to its portfolio of assets in its ever-growing ecosystem.
For more information, visit www.torqueesport.com.