Series (PCS) in response to COVID-19, PUBG Corporation is sharing the schedule for the first event – the PCS Charity Showdown. The PCS Charity Showdown will consist of four regional online tournaments taking place throughout the month of May. The four regions include: Asia (Korea, Japan, China and Chinese Taipei), Asia Pacific (Southeast Asia and Oceana), Europe and North America.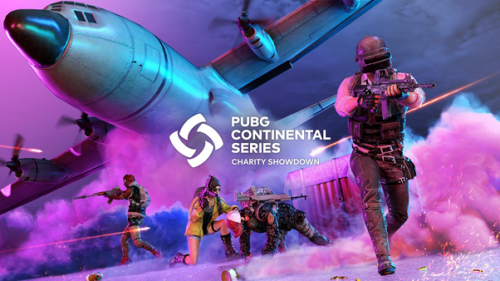 Teams will be competing for their share of a $100,000 USD prize pot in each of the regional tournaments. As these are charity tournaments, PUBG Corporation will also donate an additional $100,000 to each tournament for charities selected by the winning teams – resulting in an $800,000 combined fund.
PUBG CONTINENTAL SERIES EUROPE CHARITY SHOWDOWN
Schedule:
Europe West Open Qualifiers: May 2-9
Europe East Open Qualifiers: May 4-11
Middle East & Africa Open Qualifiers: May 5-12
Group Stage Week 1: May 15-17
Group Stage Week 2: May 22-24
Grand Finals (16 Teams): May 29-31
Participating teams:
Invited: FaZe Clan, Team Liquid, Natus Vincere, TSM, ENCE, RYE Gaming, Northern Lights Team, Adepts, Tornado Energy, Omaken Sports
14 teams from open qualifiers
PUBG CONTINENTAL SERIES NORTH AMERICA CHARITY SHOWDOWN
Schedule:
Qualifier Round of 64: May 2-3
Qualifier Round of 32: May 9-10
Qualifier Round of 16: May 16-17
PCS North America Charity Showdown: May 21-24
Participating teams:
Invited: Soniqs, Exodus, Oath, Houston Hardshifts, Livid Gaming, 303 Esports, Team Clueless, Radiance
Eight teams from open qualifiers
PUBG CONTINENTAL SERIES ASIA CHARITY SHOWDOWN
Schedule:
Week 1: May 15, 17
Week 2: May 22, 24
Participating teams:
Korea: Gen.G, ENTUS, Element Mystic, Griffin, VRLU GHIBLI, Quadro
China: Luminous Stars Gaming, LYG Gaming, Tianba, iFTY, Four Angry Men, RushB Gaming
Japan: Sunsister, Detonation Gaming White
Chinese Taipei: Global Esports Xsset, Team Curson
PUBG CONTINENTAL SERIES APAC CHARITY SHOWDOWN
Schedule:
Week 1: May 14, 16
Week 2: May 21, 23
Participating teams:
Vietnam: Ceberus Esports, Creatory Esports, Phoenix Gaming, Divine Esports, DivisionX Gaming, DIC Gaming
Thailand: Buriram United Esports, Golden Cat, Daytrade Gaming, Qconfirm, MiTH
Indonesia: Victim FTF
Philippines: ArkAngel Predator
Oceana: Fury Australia, Athletico, Team Ferox
By holding all PCS Charity Showdown events online, PUBG Corporation aims to achieve the goals announced earlier this year. These include strengthening the PUBG esports ecosystem, reaffirming its sustainability by improving the competitive structure, increasing profit sharing with participating teams, and expanding third-party partner events.
For more information on PUBG: please check around 2020 PUBG esports and the regional tournaments, head to our main esports site and Twitter page.