For the first time ever BLAST Pro Series will bring the newest and most spectacular live esports format to US.
On April 13, 6 of the world's best Counter-Strike teams with some of esports' biggest stars will battle it out live on stage in Miami's Watsco Center for a total prize pool of 250,000 dollars.
The show has sold out in all arenas so far and tickets for Miami go live February 20.
The BLAST experience
Watsco Center will be completely transformed to a state-of-the art digital battleground: From the iconic A-stage with all 6 teams playing live at the same time over the monstrous set-up with multiple jumbo screens, hundreds of moving lights and amazing surround sound to the event itself: It is live entertainment like you've never experienced before!
Jordi Roig, Executive Producer of BLAST Pro Series comments:
– BLAST Pro Series is the best of all live entertainment and sports formats in one. Miami will be our first first ever tournament in North America, and it will probably be the biggest live esports in US of 2019. Last week we opened the ticket sales for our São Paulo tournament and within hours the arena was completely sold out. We see this tendency all over the world, and even though BLAST in Miami will be the biggest esports event ever in Florida, we expect a completely packed arena for the Saturday event.
BLAST's iconic stage and ability to create an electric atmosphere ensures the audience of nothing less than a fantastic display of esports entertainment.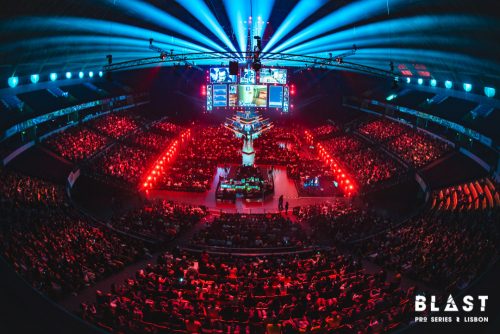 The beginning of something amazing for live esports entertainment in the US
BLAST Pro Series Miami will be the first of its kind in the US but another BLAST-tournament is already on the drawing board for American fans in 2019.
The fast and exciting format exclusive to BLAST Pro Series is already well established and all shows have been sold out while millions have been watching online and on TV from all over the world.
BLAST Pro Series has reached new milestones on the global esports scene at an incredible pace and the ambition is to become world's most recognizable tournament brand due to its exhilarating format and attention to detail. The tournament and format is optimized for both streamning, broadcasting and live experience in the arena.
The best players in the world go head-to-head
Currently ranked #1 and #2 in the world Oleksandr "s1mple" Kostyliev of NAVI  and Astralis' Nicolai "dev1ce" Reedtz are at the very top of international Counter-Strike.
"s1mple" is arriving with his Ukranian-Russian team NAVI, currently ranked 3rd in the world, while "dev1ce" will show up with his team Astralis, ranked #1 in the world.
Nicolai "dev1ce" Reedtz looks forward to meeting the US crowd again, this time in a bigger show than ever before:
– We have always felt at home in US and the fans have always been very kind to us. We've played here many times, but never in a tournament the size of BLAST. Playing on that stage with the massive set-up of screens, lights and sound in front of a packed arena is impossible to describe. I really hope that the crowd will show up in force, 'cause this will be something truly special, says "dev1ce".
– We've won two out of 5 BLAST trophies and there is nothing I'd love more than to lift the trophy in front of the Miami crowd in the biggest CS-event on US soil. That would be truly special, the Danish superstar comments.
Nicolai "dev1ce" Reedtz is going to need the help of his entire team to take down the Ukranian superstar Oleksandr "s1mple" Kostyliev.
Astralis might be ahead of NAVI in the world rankings but that didn't stop Oleksandr "s1mple" Kostyliev and co. from beating the number one team on home soil in BLAST Pro Series Copenhagen last year:
Oleksandr "s1mple" Kostyliev, professional Counter-Strike player, NAVI:
– Winning BLAST Pro Series Copenhagen against Astralis was a huge step for us. The atmosphere in the arena was nothing like I've ever seen and that goes for all the other BLAST-tournaments we've played as well.
Oleksandr "s1mple" Kostyliev is no stranger to American fans. He played for the North-American organisation Team Liquid in 2016:
– I'll never forget how amazing our American fans were. The way they supported and cheered for me even though I was the only one in the team not from North America, it made me stronger and I owe the American fans so much. I can't wait to come back to the US and play in front of all the awesome people coming to BLAST Pro Series Miami, "s1mple" says.
The best Counter-Strike player of all time, Oleksandr "s1mple" Kostyliev, is excited to play in the US.
Not just for hardcore fans
BLAST Pro Series aims to excite and entertain whether its the live audience or broadcast viewers.
The tournament, teams and players share more than 40 million followers across all social media platforms and the tournament is watched by millions across all ages and cultures. 5-10 million viewers will watch the Miami-tournament on stream and on top of this, tv viewers in more than 130 countries will be able to tune in to BLAST Pro Series Miami.
Tickets go on sale February 20 via Ticketmaster.