The British Esports Association, the not-for-profit organization set up to promote and support grassroots esports, has teamed up with the North America Scholastic Esports Federation (NASEF) for a special Minecraft tournament.
The world's best Minecraft teams will go head-to-head in the 2020 NASEF Minecraft Masters Global Competition.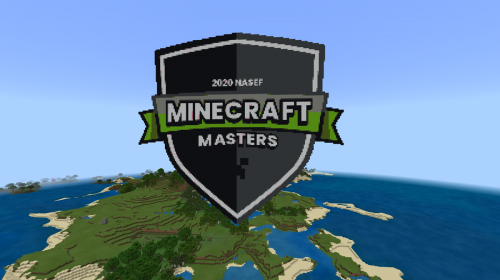 Teams of up to four students aged 13-18 years old are invited to enter and face-off against teams from around the globe in this exciting online competition. And the British Esports Association is encouraging students in the UK to get involved and represent their region on the global stage.
The preliminary round will run from June 29th to July 17th, and all teams will use their Minecraft skills to compete for four top spots to advance to the Live Challenges. The final four teams will compete for top honors in three rounds of Live Challenges and the championship Masters event, which will be held on August 8th 2020. Registration is open now.
Students' preliminary challenge will be to build an esports arena within Minecraft. Those that qualify for the finals must build the next creations in two-hour timed challenges which will be announced at that time. The following skills will be tested and demonstrated by participants:
Design
Redstone
Commands/Command Blocks
Code Builder
As an incentive for all participants, even those teams that don't make it into the final four, an @Home Challenge will continue through the entire Masters competition. Students will continue to work with their teams to create designs for each new challenge as they are announced. They'll have four days to complete the challenge and submit their entries and all who participate will be entered into a raffle for prizes.
NASEF will kick off the entire event with a stream including details and advice about the Minecraft Masters on June 30th at 7pm GMT on both the Participate and NASEF Twitch channels. All of the Final Live Challenges will be hosted by Participate and streamed in both places on July 25th, July 26th and August 1st, with the Global Minecraft Masters finale taking place on August 8th.
The Minecraft Masters Global Competition is being offered by NASEF along with its partners MonClub esports in France, ISEF in Israel, JHSEF in Japan, the US Embassy in Mexico, Benjamin Franklin Library and its American Spaces across Mexico, esports partners in South Africa, and of course, the British Esports Association in the United Kingdom.
Competitors qualify for a variety of prizes including trophies, Xbox One S systems, Minecraft: Master Collection Game and Minecraft Story Mode: The Complete Adventure, Windows Kano PCs, Minecraft LEGO Creation Sets, HyperX headsets and mentorship experiences with Minecraft Education Edition Creative Experts.
Prizes will be awarded to the top four teams who qualify for the Masters round and the team that earns the overall Minecraft Masters title. Students can also win by being selected as the winning team for their country (regardless of placement in the final four) or by winning a raffle for entering the @Home phase of the series.
British Esports Association head of education Tom Dore commented: "Minecraft encourages creativity, promotes STEAM skills and has a competitive community that are capable of some truly impressive feats.
"We're excited to support the Minecraft Masters and urge UK students to get involved in this great initiative. It's inspiring to see Minecraft used in classrooms around the world and we're proud to promote this latest competitive activity within the game with people aged 13-18."
Gerald Solomon, founder of NASEF and executive director of the Samueli Foundation, added: "International competition offers a way for youth to understand that kids are the same across the country and around the world. They'll see that all the students are working in the same software program with the same goal, regardless of their background. That's an awesome benefit, and it is part of NASEF's commitment to educating youth about building community and celebrating diversity."
See more info on the Minecraft Masters here
Take part in the Minecraft Masters and register a team here
You can also view the Minecraft Masters Team Guide, including all the rules, award info and contest information here