Indie Prize, an international scholarship program created by Computer Games Association (CGA) for independent game developers, announced the winners of the 23rd Indie Prize Awards at Casual Connect Eastern Europe 2018 in Serbia – representing the best in independent game design and innovation.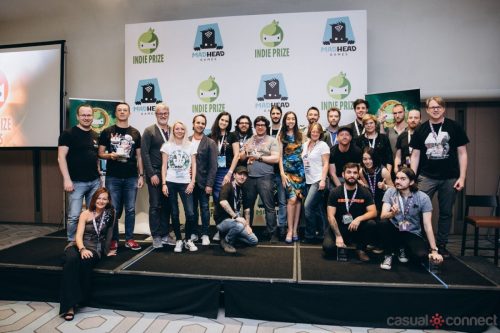 Best Game Audio: Awakening of Heroes developed by COFA Games. Serbia
Best Game Design: Golf Club: Wasteland developed by Demagog Studio. Serbia
Best Game Art: The Enchanted World developed by AI Interactive. Bosnia and Herzegovina
Best Game Narrative: Galaxy of Pen & Paper developed by Behold Studios. Brazil
Best Multiplayer Game: SUPERVERSE developed by Superverse Industries. Serbia
The best kids and family game: OkunoKa developed by Caracal Games. Italia
Best Mobile Game: Golf Club: Wasteland developed by Demagog Studio. Serbia
Most Innovative Game: SHI•RO developed by Topicbird. Germany
Best In Show – Audience Choice: Don't Kill the Knight by Penguin Spot Games, Brazil
Casual Connect returned to Eastern Europe to capture the region's independent gamedev energy in an event designed to provide a bridge between Western and Eastern companies. At Casual Connect all attendees had access to three days of lectures and workshops that featured talks from Rovio Entertainment Corp., Voodoo, Mail.Ru Group, Ubisoft, King, Google, Unity, ZeptoLab, Vivid Games, Flaregames, Wooga, Microsoft and many others. An expo area was presented with 67 companies among which were Madhead Games, Eipix, G5, Peaksel, SGA, Inlingo, Do Global, Hatch, App Samurai, AppsFlyer, Nordcurrent, NextBuy, Curate Mobile etc. Two official networking parties sponsored by Ogury and Nordeus took place at the end of the first two days of the conference. 40 of the world's best indie developers showcased their games at the international Indie Prize showcase at the expo floor.
Indie Prize finalists were selected from hundreds of applications from all around the world by the group of 38 judges to showcase their games at the international Indie Prize showcase in Serbia. In addition, 13 Indie Prize nomination partners united under the Game Nation title, nominated games from local events all around the world to be a part of the Indie Prize showcase. The Best Kids and Family Game OkunoKa by Caracal Games was nominated to the Indie Prize showcase by Game Nation partner in Italy – Codemotion Rome 2018.
Madhead Games supported Indie Prize as a Platinum sponsor and Nextbuy and Hatch as Indie Prize Silver sponsors. Prizes for winners were provided by: Tenjin, Photon, OMUK and INLINGO.
"Indie Prize receives more than a thousand game submissions each year and our Game Nations community has already reached 150 nomination partners all around the globe! On behalf of Casual Connect and Indie Prize, we congratulate all the finalists, nominees and winners, and are looking forward to seeing more talented developers in the future," says Yuliya Moshkaryova, Director of Indie Prize at CGA.
For more information on Casual Connect and Indie Prize please visit the official websites.