Collegiate StarLeague (CSL), the world's largest collegiate esports organization, announced the commencement of its 2020-2021 season, marking the twelfth year in the organization's history. With the cancellation of many 2020-2021 collegiate sports due to pandemic concerns, the upcoming CSL season will provide sports and esports fans with entertainment and action they are accustomed to without any health or safety risks.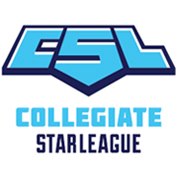 Registration is open now and will reach over 1,800 colleges and universities across North America. Competitions this season will be available for League of Legends, Valorant, Counter Strike: Global Offensive, Dota 2, Rocket League, Smash Ultimate, Fortnite and more throughout the upcoming season.
"The precautions many schools and college sports programs are taking this season, though necessary, have greatly affected the opportunities for college sports fans to enjoy and root for their favorite schools and teams. We at CSL recognize the key role that collegiate-level esports will play this season to offer replacement programming," said Wim Stocks, CEO of CSL. "We are excited to bring competitive play for schools, colleges, universities in the US and Canada in an effort to give enthusiasts an opportunity to cheer for their favorite college teams and players, all while maintaining a safe and healthy environment for all involved. Also, our expanded set of offerings this year, including women's leagues, intra-murals and intra-collegiate leagues, esports developmental services for colleges and more will deliver an inclusive, more accessible, more diverse basis for play, competition and engagement for our member schools and communities."
Also announced recently, the CSL Esports services and business launch are bringing colleges and universities a breadth of esports support including recruiting advisory services, curriculum development, custom tournament/league creation, operations, event production, LAN design and more. This program is designed to help schools achieve a $1 Million Roadmap for recurring revenue associated with esports related services, curriculum development, programming, events and support.
Awards this season include scholarships and prize money totaling over $100,000. National and international collegiate bragging rights are also on the line at the conclusion of the 2020-2021 season during the CSL Grand Finals in Spring of 2021.
Registration for Collegiate StarLeague is open now and is running through September 27. Interested and eligible college players can register by following this link: www.cstarleague.com. Players and fans can also catch all the action on CSL's Twitch page, the best place to catch collegiate esports streaming live.