Turner Sports' ELEAGUE is calling gamers, influencers and the #PunchBunch community for new episodes of ELEAGUE Super Punch – the show devoted to celebrating gaming culture – beginning Friday, Sept. 4, at midnight ET/PT on TBS (early Saturday morning). ELEAGUE Super Punch will continue to bring to life the week's biggest moments in gaming, with guest appearances by celebrities, professional athletes and the top names in streaming, pop culture and esports as they play games and engage directly with fans.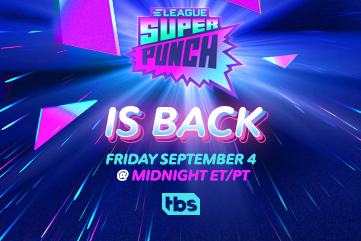 Hosted by Ify Nwadiwe, Kelly Nugent and J.D. Witherspoon, Super Punch offers a laid-back take on the late-night talk show format, using social media to focus on fan-voted content, stunts and topics each week. NBA veteran and social media star Rex Chapman will join Friday night's show.
TBS will televise new episodes of ELEAGUE Super Punch each Friday at midnight, from Sept. 4 through Nov. 27.
ELEAGUE Super Punch will feature top and trending clips, live guest interviews, contests with top streamers and interactive discussions with viewers surrounding trending clips and gaming topics of the day to provide a central rallying point where fans can catch up on the best of gaming culture, while also creating viral moments of their own.