FACEIT revealed the launch of its first Collegiate programs for Counter Strike: Global Offensive, League of Legends and Valorant with a combined prizepool of $55k. The programs represent the further development of the FACEIT Collegiate Division which recently partnered with Ubisoft on the first collegiate esports league for Tom Clancy's Rainbow Six® Siege
The FACEIT Collegiate Leagues will see tournaments across three leading games, CS:GO League of Legends, and VALORANT, offering competitive opportunities for collegiate players of all levels. The CS:GO Premier League will boast a $25k prize pool for top tier collegiate players and $5k at the Contenders level which will follow a ten week Swiss regular season, followed by a playoff bracket for the top teams. The CS:GO collegiate league offers new opportunities to the North American community of 500,000 CS:GO players competing every month on FACEIT.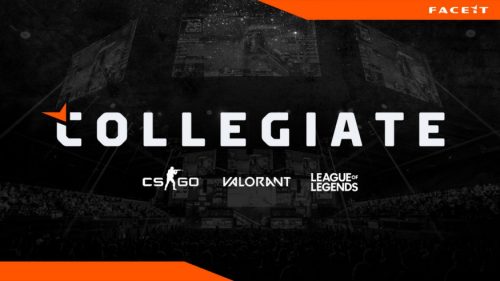 The League of Legends Invitational Series will see a unique format to help encourage regional and local rivalries. Teams from across all the US states and Canadian provinces will be first invited to compete in State Invitationals which will form the base of the tournament structure, where state and provincial winners move onto the Regional Invitationals to compete for $5,000 in prizes. Winners of each Regional Invitational will reach the epic conclusion at the FACEIT Collegiate Finals, playing for $10,000. The VALORANT Premiere League will also offer opportunities for top level collegiate players and a $10,000 prize, with a contender league for more casual fans of Riot Games' groundbreaking new FPS.
The FACEIT Collegiate Division is an extension of the FACEIT mission to develop ecosystems for multiplayer competitive experiences, designing and executing online and offline competitive experiences in partnership with publishers and colleges. Since launch in June, the Collegiate Division has already partnered with Ubisoft on their first collegiate esports league for Tom Clancy's Rainbow Six® Siege, and Unified Esports Association (UCEA) to host varsity level competition on FACEIT for the 2020-2021 school year.
"The North American leagues are only the beginning, and we have many more plans involving schools and esports collegiate clubs around the world to help provide resources and a platform to support their own internal events to help grow gaming communities on campus." said Duran Parsi, Head of Collegiate Esports at FACEIT. "The collegiate scene is an important component for the whole competitive ecosystem and we are looking forward to starting these new programs within three of the most exciting esport circuits in North America."
For more information on FACEIT, please visit www.faceit.com