The Coalition and Gears Esports, in partnership with PGL, are excited to announce the 2019-2020 Season of Gears 5 Esports.
Kicking off with the launch of Gears 5 worldwide on September 10 for Xbox One, Windows 10, and with Xbox Game Pass, players from all over the world will be able to sign up and compete in regional ladders and online tournaments for weekly cash prizes. The top teams from every region – North America, Central America, Europe, Asia Pacific and, now, South America – will also be awarded with travel coverage to major international events, where they'll have the opportunity to play for massive prize pools against the top teams in the game.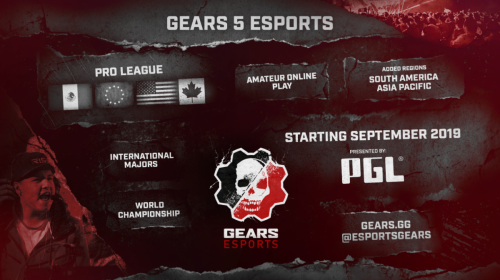 The 2019-2020 Season will feature three major events leading into a World Championship, as well as a number of regional events. Keeping in step with previous seasons, every major event will be open to all teams, meaning anyone has the chance to walk home with the trophy, and include side-tournaments with their own prizing. Attend as a spectator, a player new to the scene or a Gears vet and experience the passion and excitement that sets Gears apart.
New for Gears 5, the very best teams from North America, Central America and Europe can also qualify for an online Pro League. In addition to guaranteed prizing for qualifying, every Pro League team is automatically provided with travel coverage to major events and the opportunity to compete for divisional prize pools. Teams that qualify for the Pro League will be removed from regional ladders and will be ineligible for weekly online tournaments, allowing new teams to rise to the top. Throughout the season, these top amateur teams will have the opportunity to break into the Pro League via online qualification, while the lowest ranking Pro League teams from each division will be forced to fight for their spots.
Follow @EsportsGears on Twitter and check Gears.gg regularly to stay up-to-date!
Gears 5 launches worldwide on September 10 for Xbox One, Windows 10, and with Xbox Game Pass with four day early access on Gears 5's Ultimate Edition or with your Xbox Game Pass Ultimate membership