High School Esports League (HSEL), the largest and longest-running competitive gaming organization serving high school students and teachers, announced today an exciting partnership with eFuse — the professional hub of esports— to award thousands of dollars in college scholarships to high school students nationwide throughout the new year.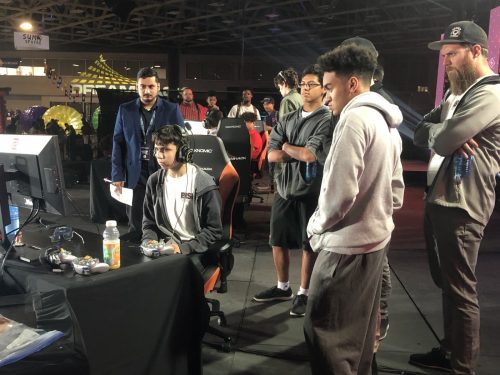 eFuse has committed to awarding over $200,000 USD in branded scholarships in the year 2020 through the #ForTheGamers Fund. The #ForTheGamers Fund was formed in collaboration by eFuse and HSEL as a way to enable the next generation of esports and gaming talent to turn their passion into a profession.
With HSEL as a partner, students attending schools within the HSEL network have the opportunity to win individual scholarships ranging from $500 to $10,000 USD by becoming a member of the eFuse platform to build their respective gaming portfolios. Scholarship funds will be distributed by the Varsity Esports Foundation (VEF) as the official funding partner of eFuse and HSEL and can be redeemed toward the tuition of a student's college of choice.
"Thanks to eFuse, our students will have access to an incredible platform where they can showcase their respective esports careers and make meaningful connections with fellow players, teams, and potential employers," said Mason Mullenioux, co-founder and CEO of High School Esports League. "The 'For the Gamers' program offers young esports competitors more than just scholarships; it offers them opportunity."
"With the eFuse partnership, VEF and HSEL have created an amazing alliance that proves just how well esports can positively impact the lives of young adults," said VEF Executive Director, Bubba Gaeddert. "eFuse's $200,000 commitment has given us a strong start to the new year, and by collaborating with some of the biggest influencers today, while utilizing the highly-innovative fundraising platform Softgiving, we're making it easier than ever for people to support esports in schools. We invite everyone to donate and help us award even more scholarships in 2020!"
"We're thrilled to be the fundraising platform of choice for the #ForTheGamers Fund and its online community," said Matt Pfaltzgraf, Founder and CEO of Softgiving. "We're excited to support this important cause through our innovative fundraising tools and make an impact together with eFuse, the Varsity Esports Foundation, and the High School Esports League."
"eFuse was founded in August of 2018 with the idea that anyone can take their passion for gaming and turn it into a profession. The #ForTheGamers campaign is our way of investing in the next generation of gamers providing them a pathway to do just that," said eFuse Founder & CEO, Matthew Benson. "This partnership with HSEL & VEF is just the beginning in our journey to lay the groundwork for what is to come, and to begin to get these life-changing opportunities in front of the students."
So far, eFuse and its partners — leading game industry celebrities, professional teams, and influencers such as Lazarbeam, Ricky Burwick, and Seattle Surge — have awarded $10,000 USD. Esports fans and organizations in gaming, tech, and related industries can donate to the #ForTheGamers campaign to help raise funds for future life-changing opportunities. All donations are tax-deductible and support the organizations' ability to continue awarding college scholarships to high school students throughout 2020. #ForTheGamers Fund donations can be made through the official Softgiving fundraising site here: forthegamers.gg.
Through eFuse, students that are a part of the HSEL network have a platform to build their gaming/esports portfolio. eFuse's network connects players with potential collegiate coaches, professional teams, and video game publishers, creating opportunities for amateur players to find their way into the professional esports industry. For students on the verge of entering the workforce, eFuse additionally provides access to internship opportunities and "Virtual Job Fairs." Members can also enjoy original gaming content and news coverage about the industry, with exclusive content such as The Spark Podcast, The Weekly Spark news roundup, and articles from leading figures in the gaming industry.
eFuse is operated by a seasoned team of gaming, sports, and social network professionals. Patrick Shuff, former engineer at Facebook and Netflix, acts as eFuse's Chief Technology Officer. Sundance DiGiovanni, the co-founder & CEO of Major League Gaming and the Chief Strategy Officer of Vindex — the preeminent esports infrastructure platform — is an eFuse Advisor. Brand ambassadors include NFL players Braxton Miller and Denzel Ward, and social media influencer chocoTaco. For more information about eFuse, please visit https://efuse.gg.
To learn more about HSEL, visit www.highschoolesportsleague.com.
About High School Esports League
High School Esports League was founded in 2013 and remains the largest and longest-running competitive gaming organization for high school students, with over 2,400 partnered schools and 70,000 participating students — and it is growing. The organization harnesses students' passion for video games through organized competition and academics, resulting in better engagement, better GPAs, and better career prospects. HSEL is a pioneer in high school esports thanks to its STEM.org certified programs, scholarships, and tournament platform which arm high schools with the knowledge and resources required to positively impact students through competitive gaming.
About eFuse
eFuse was founded in 2018 and is a professional social network for esports and video games – a place where talent and opportunity meet. Available in the form of a web and mobile application, eFuse connects the highly fragmented gaming community and provides tools for individuals to build a unique gaming portfolio, collaborate professionally, and create tailored content
About Varsity Esports Foundation
Varsity Esports Foundation is a 501©(3) charitable organization established to lead students toward better lives, promoting positive core values and encouraging academic excellence through organized esports. The organization assists students in achieving their goals, starting at the high school level and extending into higher education and beyond. Whether students are passionate about a career in professional esports, video games and electronic entertainment, programming, or production, the Varsity Esports Foundation will be there to help students throughout their journey. The organization emphasizes the importance of academic achievement and encourages students to pursue their interests in STEM subjects and higher education — and the practice of healthy lifestyles in order to facilitate their goals. VEF initiatives promote mental health awareness and students connecting with fellow classmates to discourage bullying and promote diversity and inclusion in the high school space.