PUBG Corporation (PUBG Corp.) announced that ticket sales for the PUBG Global Invitational 2018 (PGI 2018) have now begun.
The first global esports tournament presented by PUBG Corp., PGI 2018 will take place at Mercedes-Benz Arena Berlin from July 25 to July 29, with 20 top professional PlayerUnknown's Battlegrounds (PUBG) teams from around the globe facing off to stake a claim for a piece of the $2 million USD prize purse.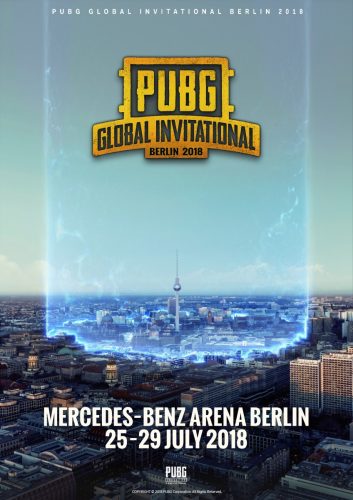 "The PUBG Global Invitational 2018 is not simply a tournament that showcases the potential that PUBG esports holds, but a unique opportunity to bring PUBG fans from around the world together to enjoy a truly immersive PUBG experience," said Changhan Kim, CEO, PUBG Corp. "We look forward to engaging with the fans in Berlin and seeing the intense PUBG action reach a fever pitch like never before."
Tickets to PGI 2018 are in two tiers, Premium and First Class, available for purchase now at pgi.playbattlegrounds.com/tickets, at € 65 and € 29 per pass. First Class tickets are also available with Duo (2-person pass) and Squad (4-person pass) packages for those who wish to attend the event in groups.  The Duo package is priced at € 58 while the Squad package is offered in a discounted price for € 99.
All tickets include a one-day admission to PGI 2018 and the chance to receive a set of PGI-exclusive in-game cosmetic items named Wasteland Collection, consisting of Reaper Mask, Doomsday Hoodie, Survivalist Slacks, and Pan of Judgement. Each of the four PGI-exclusive items will be distributed at the event venue one-a-day per ticket holder, so attendees will need to attend all four days of PGI 2018 to complete the item set. Premium ticket holders can also enjoy a VIP experience at Mercedes-Benz Arena Berlin, including the upgraded seats, access to the Premium Lounge, exclusive entrance and more.
More information on PGI 2018, including ticket sale details, onsite events, regional qualifier can be found at the PGI 2018 official website (pgi.playbattlegrounds.com).