15 teams have received direct invites to the LAN-qualifier, where they will compete for spots in the first phase of PUBG Europe League.
The main part of the qualifiers for PUBG Europe League will be held at the LAN-tournament. From the 10th to the 16th of December, Kiev Cybersport Arena will host 17 winners of the open qualifiers and 15 invited teams in a battle for 10 spots at the PUBG Europe League and six spots at the Contenders League.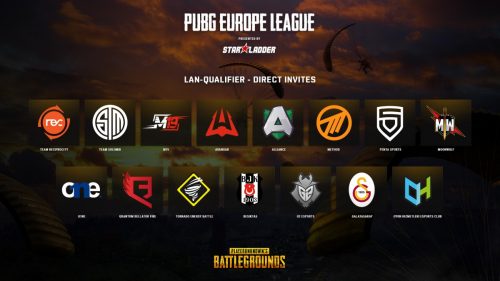 Teams that are invited to the LAN-qualifiers:
Team Reciprocity
Team SoloMid
M19
Avangar
Alliance
Method
Penta Sports
MOONWOLF
o1ne
Quantum Bellator Fire
TORNADO ENERGY BATTLE
Besiktas
G2 Esports
Galatasaray
Oyun Hizmetleri eSports Club
LAN-qualifiers will be held in two stages. In the first stage, invited teams and winners of the online qualifiers will be seeded randomly into two groups and will play 15 rounds. The top eight teams from each group will advance to the Final stage, to form one group of 16 teams, and will play 15 more rounds According to the results of the Final stage, the top 10 teams will receive invitations to the first phase of PUBG Europe League, and the remaining six will start from the Contenders League.
See also: PUBG Europe League: details and structure of qualifiers
If you want to take part in the open qualifiers of PUBG Europe League and to compete for a chance to enter the LAN-qualifiers, you still can apply. Registration for open qualifiers is available via these links: