Returning for its third year, Red Bull AdrenaLAN will move online in 2020. From Dec 19-20th, Red Bull AdrenaLAN will bring gamers together online, through a fusion of free to enter Canadian tournaments with a prize pool of over $30,000, world of Red Bull show matches, indie showcases, DJ streams, and much more. The event will feature world premieres, unique performances and thrilling competitions, live streamed across multiple channels bringing something to watch for any gamer.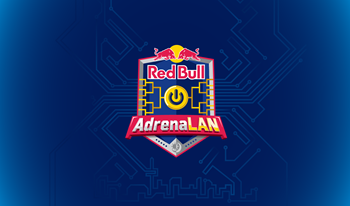 2020 PROGRAMMING
OPEN CANADIAN TOURNAMENTS 
(VALORANT, LEAGUE OF LEGENDS, STREET FIGHTER V) 
For Canadians who thrive on the spirit of competition, they'll be able to sign up for free-to-enter tournaments in League of Legends, VALORANT, and Street Fighter V, with a total prize pool of over $25,000! Registration is now OPEN, find more info and sign up links at: RedBull.ca/AdrenaLAN
GRANDPOOBEAR'S FALLMANIA 7 – CROWN OF THE NORTH 
(FALL GUYS)
FallMania is an action-packed Fall Guys tournament put on by Red Bull gaming athlete GrandPooBear! Watch as sixteen legendary competitors duke it out in the most serious party game of all time. $5,000 on the line, winner take all. This month's tournament, powered by Red Bull AdrenaLAN, will host an all-Canadian streamer line up – all of whom will be fighting to take the Crown of the North.
TORONTO ULTRA BATTLE ROYAL PRESENTED BY BELL
(CALL OF DUTY WARZONE)
The greatest Canadian Call of Duty: Warzone tournament is upon us! Participants will have a chance to compete against pro Call of Duty team Toronto Ultra and prove they have what it takes to take down the best of the best. There will be three private Warzone lobbies consisting of 38 teams in each. Players will be rewarded cash bounties for eliminating Ultra players and $1,000 for securing a Warzone victory. The battle of Toronto Ultra vs everyone is on! Catch all the action at: Twitch.tv/Bell_Canada
INDIE GAME SHOWCASES 
(MIGHTY FIGHT FEDERATION AND KILLER QUEEN BLACK)
One of the best parts of attending a live gaming event is trying out games from smaller developers at booths scattered throughout the venue. Red Bull AdrenaLAN aims to take that experience online, providing a platform for exciting indie games like Killer Queen Black, while supporting Canadian developers, like the team behind Mighty Fight Federation.  
ADRENALAN SOUNDS
(DJ STREAMS)
Alongside the gaming broadcasts, Red Bull AdrenaLAN will be celebrating the music community who have turned to streaming as an alternative stage in 2020. Line up features Hedspin, HustleGRL, JayemKayem b2b Freeza Chin, LIVING ROOM, DJ Poptrt, and Skratch Bastid.
REGISTER NOW
Registration across the open tournaments are live, so head to RedBull.ca/AdrenaLAN to join in on the action.