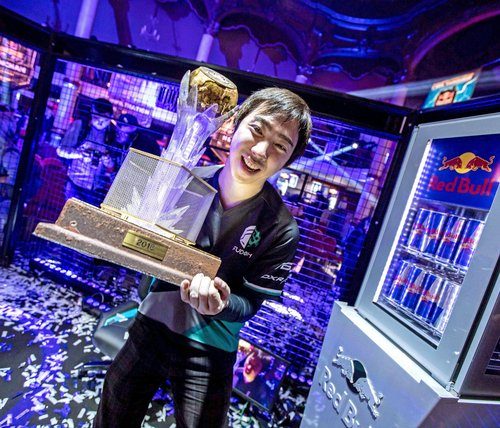 After 8 hours of epic clashes, the Japanese player Fujimura won Red Bull Kumite in front of an audience of 1,000,000 viewers and more than 1,000 euphoric fans.
For the 4th edition of Red Bull Kumite, fans once again lined up to cheer on the greatest Street Fighter champions in the world. With 8 nationalities represented (France, United Kingdom, United Arab Emirates, Japan, South Korea, Hong Kong, Taiwan, United States), this competition is one of the most renowned in the fighting game scene.
The tournament was in full swing on Sunday for the Main Event, with matches full of twists and turns. Amongst the 3 French players involved, Luffy – the 2014 EVO champion – lifted by the fans, failed at the last step before the Grand Final after being defeated by the soon to be champion, Fujimura.
During the double elimination tournament, the players fought without mercy, trading blow for blow. Without losing any games during the day and after dominating every one of his opponents, Fujimura (JP) had the upper hand against ProblemX (UK) who gave it his all in a memorable Final Round before Fujimura was crowned this year's Kumite champion.