GAEMS, pioneers of gaming on the go, unveiled Sentinel, the latest evolution in their award-winning series of Personal Gaming Environments. The ultimate combination of console gaming portability and performance that GAEMS has become critically acclaimed for is now wrapped in a new sleek and patented design that provides a bigger gaming experience in a smaller, lighter hard-shell case. Paired with your favorite gaming console, GAEMS Sentinel with its new IPS panel transforms any space into your own esports arena or premier Personal Gaming Environment.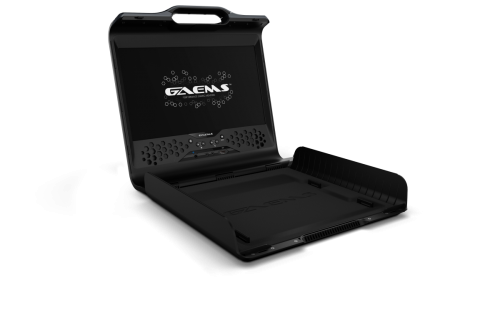 "We've redesigned Sentinel from the ground up to fit today's gamer. Sentinel's market is just as likely to be gamers competing in esports or creating online content related to games they play as they are to be casual gamers meeting up with friends to game together in the same room," said John Smith, co-founder of GAEMS. "Because of this, we packed the most performance possible into our TSA-friendly design. Players can now spend their time focusing on increasing their gamer scores and achievements instead of worrying about downtime."
Total gaming immersion begins with a high quality, low-latency IPS panel, and Sentinel's integrated 17.3" FHD Anti-Glare IPS panel delivers the 1920 x 1080 Full HD experience at 60HZ. Plug your favorite gaming headset into the Sentinel's 3.5mm audio output jack or just crank up the sound with GAEMS onboard soundstage which includes individually chambered 3W stereo speakers specifically tuned for great gaming sound. TSA-friendly dimensions means Sentinel will fit overhead carry-on compartment requirements for most airlines.
Key specs for Sentinel include:
Patented hard-shell protective case with kickstand for stability when opened
Unique EVA foam base creates a custom and secure fit for many different consoles
Integrated 17.3" FHD 60HZ IPS anti-glare performance gaming monitor
Chambered and tuned 3W stereo speakers deliver quality sound without headsets
3.5mm audio output when you do want to use headsets
Includes external accessory bag for storing controllers, power supplies, cables and more
Includes IR remote control for easy menu navigation
Includes HDMI cable, 100v-240v/DC power adapter
Sentinel external closed dimensions: 16.9" width X 4.2" depth X 16.7" height
Compatible with select Xbox and PlayStation consoles and some PCs
One X, Xbox One S, Xbox 360 models Elite, S and E
PlayStation 4 Pro, PlayStation 4 Slim, PlayStation 4 and PlayStation 3 Slim
Sentinel will be available 01/08/2019 for a suggested retail price of $349.99, and can be pre-ordered from Amazon.