Y-350CPX 7.1 Powered, the latest and greatest in Thrustmaster's range of gaming headsets, has been specially designed with the brand's two main goals in mind: it's a high-end headset, and features extended compatibility to meet the needs of all gamers – whatever their favorite next-generation platform.
The very best audio for all gamers
Thrustmaster has used its extensive audio and gaming expertise to develop a headset that delivers the same outstanding level of performance with all the latest systems – including the different versions of the PS4™ and Xbox One® consoles, Nintendo Switch™, PC and Mac, and even VR headsets, smartphones and tablets!
The result of the intensive work carried out by Thrustmaster's R&D teams is a gaming headset featuring high-resolution sound with truly impressive bass response, thanks to powerful, high-performance 2.4"/60 mm drivers. The Y-350CPX 7.1 Powered's frequency response curve clearly shows the optimization not only of bass frequencies, but medium and high-range tones as well. In games, this translates into perfect reproduction of heavily-boosted bass sounds heard during explosions, balanced mid-range frequencies for voices that are easy to understand, and unsaturated treble so as to be able to clearly hear enemies' weapons being reloaded, or the cracking of a twig as a rival attempts to very quietly creep up on you. Gamers will definitely appreciate the headset's true-to-life rendering of sounds all across the audio spectrum, helping them to react quickly and act preemptively in any situation.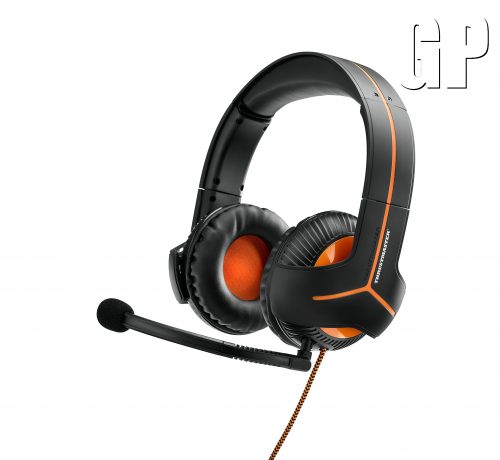 Control of  7.1 Virtual Surround Sound, right at your fingertips
Thanks to the Y Sound Commander, incorporating technological collaboration from both Texas Instruments and AM3D, gamers using the Y-350CPX 7.1 Powered headset have easy access to control of 7.1 Virtual Surround Sound technology, right at their fingertips! This technology allows the user to precisely identify the position of each sound, for unparalleled immersion in games. The Y Sound Commander features a built-in rechargeable battery, powering the active bass and 7.1 Virtual Surround Sound features. It also includes a function allowing gamers to manage the feedback of their own voice on the headset, along with a Mute function that proves incredibly useful in games.
Much more than just comfortable
With gaming sessions now lasting longer than ever before, the proven and highly-acclaimed design of Thrustmaster's "Y" range of gaming headsets was the natural choice for this new model. Thanks to this innovative design, the Y-350CPX 7.1 Powered ensures total comfort – in particular thanks to the use of an ergonomic headband and two large, ultra-soft ear pads, with all three elements featuring extremely comfortable memory foam padding. In addition to optimal comfort, this design also provides highly effective passive sound isolation. What's more, the Y-350CPX 7.1 Powered also incorporates double electro-acoustic bass amplification – thanks to the shape of its earpieces, in conjunction with electronic bass amplification built into the controller.
Last, but certainly not least, is yet another of the product's many strong points: the headset's detachable and adjustable unidirectional microphone, which provides unmatched performance in games. The microphone has been carefully designed to target just the user's voice, and not background sounds – for super-clear and precise voice communication between players, and the most efficient gameplay.