Allied Esports has been selected by interactive live streaming platform Trovo to create and produce a new community esports tournament series for gamers in North America, Latin America and Europe that will run throughout 2021. The Trovo Titans program, featuring over 100 events and 280 days of competition through weekly matches and monthly tournaments, will distribute $250,000 in prize pools for participants, plus additional incentives and rewards for viewers.
Trovo Titans kicks off in May with the Trovo Titans Birthday Bash, a month-long series of multiplayer competitions in celebration of Trovo's one-year anniversary. Gamers in all three regions can sign up for Trovo Titans Birthday Bash community tournaments, as well as additional weekly events, featuring game genres such as MOBA, FPS, Battle Royale and more.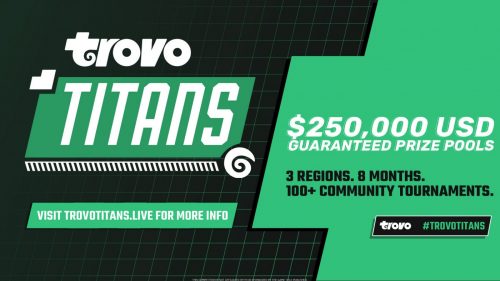 Trovo Titans will include community tournaments across a wide variety of game genres and titles customized for each region. In addition to prize pools for each event, players will have the chance to win cash and prizes by accumulating Titan Points, which can be earned through event participation, tournament placement, and engagement on the Trovo platform and Trovo Titans Discord. The series will also open doors for aspiring casters, with hundreds of opportunities to join a tournament as a community caster.
Observed game feeds of weekly competitions and the qualifying rounds of multi-day tournaments will be provided to community casters to be livestreamed on Trovo. The Finals of multi-day tournaments – a total of 70 live broadcasts – will be produced and streamed on the Trovo Titans channel, where viewers will also be rewarded with surprises throughout the year.
For more information about Trovo Titans, including updated schedules, tournament registration, Titan Points and community casting opportunities, please visit TrovoTitans.live and follow @TrovoTitans.