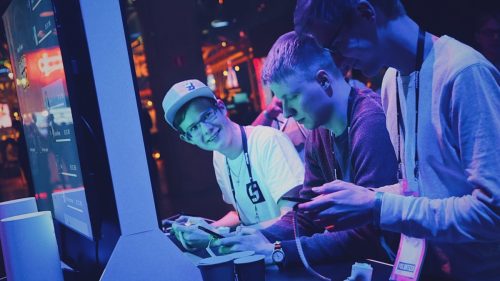 The 5G gaming revolution is off to a galloping start in the new year, as Finnish telecommunications company Elisa, device maker OnePlus and cloud gaming pioneer Hatch team up to host the first ever 5G eSports tour in cities across Finland in January and February.
Hatch and Elisa Viihde first announced their cooperation last December at Slush, where they hosted the world's first casual eSports tournament over a real 5G network. Now the show goes on the road, taking place at Elisa's stores in the first cities where Elisa has a 5G network: Tampere, Jyväskylä, Turku and Helsinki. OnePlus joins the collaboration as the tour's official partner providing players with the latest top-spec devices.
The tour culminates in finals held at LanTrek in Tampere from Feb. 28 to March 3, which Elisa Viihde Sport will broadcast to its subscribers in 4K quality. Players can qualify for the finals by participating in person at one of the tour events, or by playing from home via the Hatch app.
Finland's popular YouTubers Santtu and Niko will also be joining the tour to play and meet with fans.
"Hatch is the world's first service for playing premium games on mobile instantly over streaming, with no downloads or installations," says Lassi Nummi, Hatch's Head of Marketing. "You can play all kinds of games on Hatch, so the tournament is aimed at all kinds of players who might want to compete but don't have any eSports experience. We're excited to work together with Elisa Viihde on bringing players a new type of gaming experience over 5G."
"This is the first eSports tournament in Finland open to all that you can play over 5G," says Mika Lepistö, responsible for sports and pay-TV at Elisa Viihde. "It's a good idea to come and play at our locations onsite to experience all that 5G allows. The fastest 5G-enabled connections and ultra-low latency change the user experience for gamers completely."
"We have been supporting mobile gaming in Finland for almost a year together with Elisa, so it is natural to continue working together in 2019 as our latest devices get more efficient and even faster for gamers," adds Tuomas Lampen, Country Manager at OnePlus.
All players participating in the tour will be rewarded with Elisa, OnePlus and Hatch products. Participation in the tour does not require prior registration.
Elisa and Hatch's 5G Mobile Tournament will be held in the following locations:
Jan. 19 – Tampere, 12-16, Elisa store, Hallituskatu 8

Jan. 26 – Jyväskylä 12-16, Elisa store, Kauppakeskus Forum

Feb. 9 – Turku 12-16, Hansatori, Kauppakeskus Hansakortteli

Feb. 16 – Helsinki, 12-16, Elisa Kulma, Aleksanterinkatu 19
Read more about Elisa 5G Liiga at elisa.fi/gaming (in Finnish)