Blizzard Entertainment
We're just a few days out from the culmination of the 2019 Overwatch Contenders program—next week, over five action-packed days in Seoul, 10 teams from six regions will battle it out to be crowned Gauntlet champions. Here's everything you have to know about the event, which takes place Oct. 9–13 at OGN Giga-Arena.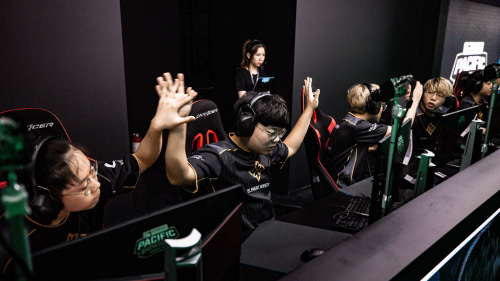 FAN ACTIVITIES
The Gauntlet isn't just home to exciting Overwatch action—there are plenty of other activities to enjoy. Fans in attendance can check out the following:
Photo Zone. Fans can take photos with Gauntlet-related backdrops as well as with the heroes of Overwatch.
Giant Pachimari Doll. Need we say more?
Hammer Game. Give us your best Earthshatter in this test of strength and win Overwatch swag based on your score!
Nerf Gun Game. This simple game is a fan favorite at Korean Overwatch events.
Workshop Station. Up to six players can try out a custom workshop mode, designed specifically just for the Gauntlet!
Overwatch Store. Stock up on your favorite Overwatch merchandise, gear, toys, trinkets, and more, or pick something up for friends and family.
FORMAT AND SCHEDULE
We previously revealed the competition format for the Gauntlet. To recap, eight of the 10 teams will first be split into two groups and play in a double-elimination bracket. One team will be eliminated from each group, and the rest will be seeded into an eight-team, double-elimination Finals Bracket, where they'll be joined by Korean first seed RunAway and North America first seed ATL Academy.
Matches will be first-to-3 maps, except the winner's finals, loser's finals, and Gauntlet finals, which will be first-to-4. The Gauntlet will be played with 2-2-2 role lock enforced.
Below is a daily schedule of match start times:
Oct. 9: Group A
Matches start at 11 a.m KST/7 p.m. PT (Oct. 8)
Oct. 10: Group B
Matches start at 11 a.m KST/7 p.m. PT (Oct. 9)
Oct. 11: Finals Bracket Day 1
First round of Lower and Upper Brackets
Matches start at 12 p.m. KST/8 p.m. PT (Oct. 10)
Oct. 12: Finals Bracket Day 2
Second round of Lower Bracket, Winner's Final, third round of Lower Bracket
Matches start at 12 p.m. KST/8 p.m. PT (Oct. 11)
Oct. 13: Finals Bracket Day 3
Loser's Final, Grand Finals
Matches start at 12 p.m. KST/8 p.m. PT (Oct. 12)
TEAMS
Now it's time to meet the 10 teams battling for glory at the Gauntlet—four from the two North America regions, three from Korea, and one each from China, Europe, and the Pacific—and the groups they'll be competing in. Both groups feature a fascinating range of playstyles from different regions, with upset potential abound, while Group B comprises four academy teams, with their Overwatch League parent organizations undoubtedly watching closely.
SEEDED TEAMS
RunAway (KR first seed)
The RunAway organization is one of the most successful in Korean Overwatch history, having won six of their last seven major tournaments, including three of the last four Contenders Korea titles. The current roster seems poised to be one of the favorites to win the Gauntlet, especially after emerging from a tough playoff run in which they staved off a reverse-sweep attempt by O2 Blast in the semifinals and then defeated Element Mystic 4-2 in the finals. Led by standout main tank Tae-Sung "Mag" Kim and damage Jun-Ki "Yaki" Kim, this team always shows up strong on meta comps while also demonstrating superb adaptability to counter their opponents' strategies.
ATL Academy (NA first seed)
This is a team that didn't drop a single map during round-robin play in Season 2, eventually winning 33 consecutive maps en route to taking the North America East title in a breezy 4-1 win over Gladiators Legion. ATL Academy's roster is a mix of Contenders veterans and dynamic newcomers like 14-year-old damage prodigy Kamden "Sugarfree" Hijada. While there may be questions surrounding some of the other Gauntlet rosters heading into a major meta shift, we have a pretty good idea who will play Sigma for ATL Academy: main tank Blake "Gator" Scott, who was an impact player on the new hero for the Atlanta Reign during their Overwatch League playoff run.
GROUP A
Element Mystic (KR second seed)
Element Mystic blazed through Season 1, winning their first Contenders Korea championship before taking the Pacific Showdown title as well, but Season 2 was a struggle. Still, despite just barely sneaking into the playoffs, the players' mechanical skill was able to carry them all the way to the final, where they fell to RunAway. This is a team that loves to play an aggressive dive, and with Doomfist's importance in the current double-barrier meta, the Gauntlet could be the perfect stage for 17-year-old Yeong-Han "Sp9rk1e" Kim to show the world why his Doomfist is respected and feared, even among his counterparts in the Overwatch League.
HSL Esports (EU)
HSL Esports enter the Gauntlet carrying Europe's hopes on their back. The team—an Italian organization with four Danish players on the starting roster—managed to achieve a high level of synergy in a short amount of time, anchored by a couple of previous Overwatch World Cup standouts in flex tank Ilya "Txao" Makarov and damage Mads "Fischer" Jehg. It all came together for HSL in the Contenders Europe Season 2 playoffs, as they reverse-swept Clockwork Vendetta in the semifinals before taking down a veteran Team Gigantti 4-1 in the finals.
Talon Esports (PAC)
Talon Esports has one of the more interesting hybrid rosters at the Gauntlet, comprising players from South Korea, Thailand, Hong Kong, and Chinese Taipei, and Overwatch World Cup enthusiasts will remember the names of damage duo Patiphan "Patiphan" Chaiwong and Ubon "Oputo" Dara, as well as flex support Kinlong "Mangojai" Wong. After steamrolling through the Pacific Region—7-0 with a 27-1 map score during round robin, and a 4-0 sweep of Global Esports in the finals—this team has a chance to prove they're more than just scrappy underdogs on the Gauntlet stage.
XL2 Academy (NA third seed)
XL2 Academy was the second-best team in the NA West region for all of Season 2, finishing behind Team Envy in both round-robin play and in the playoffs. The organization reconstructed their roster in 2019, resulting in a mixture of emerging talent, including a pair of 15-year-olds in damage Nicholas "Speedily" Zou and support Christian "Ojee" Han, and veterans like hitscan specialist Kai "KSP" Collins and veteran Casey "Buds" McIlwaine. XL2 relied heavily on their damage duo to claim the third NA seed heading into the Gauntlet.
GROUP B
LGE.Huya (CN)
Despite winning both seasons of Contenders China in 2019, LinGan e-Sports Huya have a lot to prove after a disappointing 0-2 finish at the Pacific Showdown resulted in China dropping their second Gauntlet spot. Now the Chengdu Hunters' academy team will try to redeem themselves as their region's sole representative at the Gauntlet. They have a mixed Chinese-Korean roster; the Chinese support line and Korean tank line both have good synergy, and damage Yitao "Kami" Yang in particular showed strong performances in the Contenders China playoffs, helping LGE.Huya survive an extremely close quarterfinal match against T1W.GZA before taking down Bilibili Gaming and Team CC.
Team Envy (NA second seed)
Team Envy was nearly as dominant in NA West as ATL Academy was in NA East—they went 7-0 and dropped just one map, despite needing to integrate a brand new tank line late in round-robin play. Riding their collective experience and poise, Envy eased to the Season 2 title with a 4-2 win over XL2 Academy before falling to ATL Academy in the Gauntlet tiebreaker. The damage duo of Jason "Jaru" White and Hugo "Sharp" Sahlberg is flexible and comfortable running different combos, while their backline is anchored by the dynamic play of flex support William "Crimzo" Hernandez.
Gen.G (KR third seed)
A 6-1 squad during Season 2 of Contenders Korea, Gen.G nevertheless has a reputation for being rather mercurial. Their roster features former Overwatch League talent in flex tank Seung-Hyun "Woohyal" Sun and damage Seok-Woo "Wekeed" Choi, whose Doomfist could be impactful in the Gauntlet meta. In the backline, 14-year-old main support So-Myung "Bliss" Kim made a splash in his debut season. Gen.G were swept easily by Element Mystic in the semifinals, but recovered in a dominant victory over O2 Blast in the third-place match to determine the final Gauntlet spot, powered by strong performances from Wekeed and damage partner Gil-Seong "Glister" Lim.
Gladiators Legion (NA fourth seed)
With players hailing from North America, South Korea, and Sweden, the Legion have an eclectic mix of players, and they came to life in the NA East playoffs despite finishing 2-5 during round-robin play and sneaking in on a tiebreaker. At the Gauntlet, the team will rely on the experienced support line of Ludvig "Luddee" Hakansson and Randal "Roolf" Stark, and damage Min-Sung "Water" Lee—who is competing in his third Contenders region after spending time in China and the Pacific—could also make waves if he's in pop-off form.
HOW TO WATCH
Don't miss out on any Gauntlet action. Catch all the live streams in the following languages, plus more to be announced:
Watch live video from OverwatchContenders on www.twitch.tv