DRKN is proud to announce the latest addition in the collab with UBISOFT
Join us in our mission to merge the next level of gaming with street wear fashion. Our collaboration with Ubisoft and 6 SIEGE has leveled up. The latest DRKN x R6 drop is the 6 SIEGE Thermite Black Hood.
6 SIEGE Thermite Black Hood
With an exclusive Thermite print and equipped with a DRKN glow in the dark rubber patch. But as always it is the inside that matters. This piece is connected and will reward the owner with a unique loot. The Thermite Hood is besides being your future lounge favorite, equipped with a DRKN only Rainbow 6-Siege Thermite in-game skin. So jump in that rabbit hole and suit up yourself as well as your operator. Get ready for Year 6 Season 2, you are going on a North Star journey.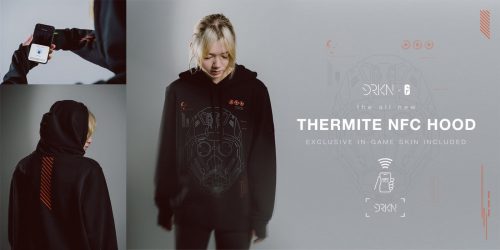 NFC
The 6 SIEGE Thermite Black Hood is equipped with an NFC chip and includes an exclusive in-game skin for the operator Thermite. All you need to do is to download the DRKN-app , scan the cuff and claim your loot. Once you have claimed your loot, choose your gaming platform and redeem your new in-game Thermite skin – bam! you are set.
"We are very excited to have closely collaborated with DRKN on this connected Thermite Hood", says Dominique Létourneau, Transmedia Project Manager at Ubisoft. "It's a pleasure to work with them and we are proud of this innovative product. We cannot wait to see our R6 Community wearing this piece in the world of choice, offline as well as online." North Star is Year 6 Season 2 of Rainbow Six Siege released June 14.