505 Games and Kunos Simulazioni announced that  the 2020 SRO E-Sport GT Series is about to start with the first online event at Silverstone (UK), where the first Round of a structured championship involving real GT3 drivers and celebrities will take place on April 26th.
The newly launched championship will consist of Assetto Corsa Competizione races for three separate classes: a Pro Series for real-world competitors, a Silver Series for invited sim racers, and Am Series for public qualifiers.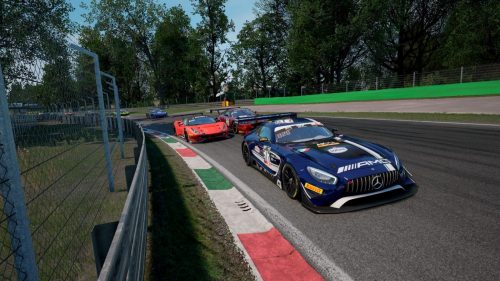 Registration is open for drivers hoping to qualify while the public hot-lap contest begins on 26th of April and will run through to 3rd May.
The opening round for the Pro and Silver Series will be staged at Silverstone, with the action getting underway on Sunday 26th April.
The SRO E-Sport GT Series will take advantage of the last 1.3.10 patch of Assetto Corsa Competizione, adding some 2020 liveries for free, for all users (they will be available in all the Custom game modes such as Quick and Custom Race, Hotlap, Free Practice and Multiplayer for ACC) and pushes the level of competition much forward:
PRO Class

 will feature real drivers and celebrities such as Jenson Button, driving his McLaren 720S GT3 and a long list (50) of famous GT3 drivers

SILVER Class

 will host 50 professional sim racers, selected by the organizers based on their palmares and popularity

AM Class

 will allow everyone from the Assetto Corsa Competizione PC community to join the qualifying events and attending the competition.
Please find all additional info you may need at this link
https://sro-esport.com/sro-e-sport-championship-launches-multi-event-2020-programme/
Real GT3 teams are creating their Official esports teams!
FFF Racing Team has just founded "FFF esports", their debut in professional esports in the racing genre. Following the successes in the 2018 Blancpain GT Asia and the 2019 Blancpain GT Series, the Chinese squad has decided to launch its Esports department for the 2020 SRO E-sport GT Series.
They will join the SRO E-Sport GT Series with their first 3 official Lamborghini Squadra Corse drivers in the SILVER category and their real drivers in the PRO category.
FFF Racing Team has decided to support the 2020 SRO E-Sport GT Series with a special prize; al the Silver Cup and Am drivers will have the chance to win a real test with the Lamborghini Huracan Super Trofeo EVO with FFF Racing Team by ACM!
The winners will be followed by FFF Racing and Lamborghini Squadra Corse staff to evaluate their driving standards and abilities, and then be chosen to attend the final selection the 'real racing' opportunity offered by the FFF Award.
More detailed info can be found here: https://www.fff-racingteam.com/news/
Ferrari Hublot Esports team will also attend the SILVER class with the F1 Esports ® World Champion David Tonizza and his team mates, all the major sim racing esports teams such as G2 Red Bull Racing esports are into the competition. Bentley Motorsports will also join both the SILVER and the PRO categories, together with R-Motorsport Aston Martin-s, McLaren, Lamborghini, Ferrari, BMW and Porsche.