The tournament organizer StarLadder is honored to present the fifteenth Major tournament in Counter-Strike: Global Offensive. We are pleased to inform all fans of the game that for the first time in history we bring Major to Berlin, Germany. The final part of the tournament will be held from 5th to 8th September 2019 at the legendary Mercedes-Benz Arena.
StarLadder's long-term partner ImbaTV will be the event co-organizer and broadcast partner for the Chinese audience. We feel privileged to be granted a chance to utilize all our previous experience and knowledge in order to provide the spectators inside the Arena as well as online viewers of our broadcasts with an outstanding esports show and amazing viewer experience while enjoying the StarLadder Major.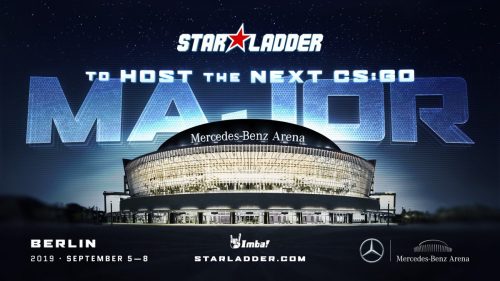 All stages of the tournament, including Minors and Minor Play-in, will also be organized in Berlin. This will allow the teams who successfully qualified for the main event to avoid problems with entry visas and focus on preparation.
The schedule of the main stages of the StarLadder Major are as follows:
• July 17-21 – Europe & Americas Minors
• July 24-28 – CIS & Asia Minors
• July 29 – Minor Play-in
• August 20-25 – Challengers Stage
• August 27-September 1 – Legends Stage
• September 5-8 – Champions Stage
The main event will take place at the Mercedes-Benz Arena, a multifunctional arena capable of accommodating up to 14,000 fans. Tickets for the StarLadder Major will go on sale in April 2019.
The prize pool of the CS:GO Major will remain unchanged and amount to $1,000,000 as well as the prize pools of the four Minors will remain at the same level of $50,000 for each region. All details regarding the qualifiers will be announced at a later stage. Follow the StarLadder Major news on starladder.com and on our social networks Facebook and Twitter.