Atlanta FaZe, in partnership with UMG Gaming announced a two-part, $25,000 Warzone Tournament series. Both events will involve two online qualifiers open to the public as well as a final invitational, each with a $25,000 prize pool. The first qualifier will kick off on Saturday, June 19, 2021 with registration available on UMGGaming.com. The second tournament will be formally announced in the third quarter of 2021. The event series will include both a combination of community players, influencers, pros and content creators.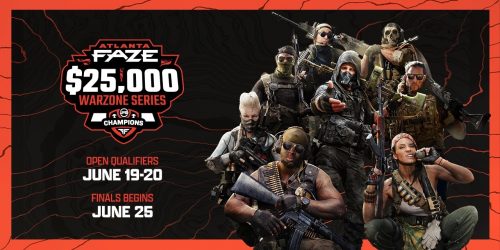 UMG launched its "Champions" Tournament Series in April with a $25,000 tournament featuring Fortnite, and will continue to expand to other popular titles to meet the needs and desires of its community and partners. Building grassroots-esports ladders is a need within the current esports landscape and UMG Gaming is proud to offer our community the opportunity to go head-to-head with pros for a chance to win significant prizes, and the chance to be watched by thousands of viewers.
The Atlanta FaZe $25,000 Warzone Series will run the first set of qualifiers on Saturday, June 19, 2021 and Sunday, June 20, 2021, with the Championships taking place on Friday, June 25, 2021. The format is an "Elimination Race," where pairs of two will compete in squad lobbies to accumulate the most eliminations possible. For full information on the tournament, visit UMGGaming.com . Both Championship rounds will be broadcast on twitch.tv/umggaming and twitch.tv/atlfaze.