Turtle Beach announced the all-new Atlas Edge PC Audio Enhancer is available globally at participating retailers. Offering premium PC gaming audio and all the deep sound customization savvy PC gaming enthusiasts could ask for, the Atlas Edge plugs into an available USB port and gives any wired headset an instant, customizable audio advantage through Turtle Beach's robust Control Studio™ software suite, which features Waves Nx® audio technology and Waves Maxx sound technology to transform sound from any PC game into a full panoramic 3D audio experience.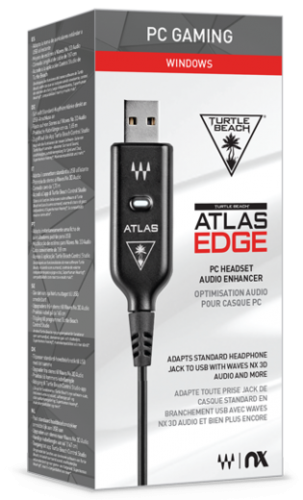 Also included is an all-new PC-optimized version of Turtle Beach's exclusive Superhuman Hearing™ sound setting for a competitive advantage on PC through precision sound, plus and a 10-channel EQ for customizing game audio, chat audio, and microphone audio. The Atlas Edge is available at participating retailers worldwide for a MSRP of $29.95.
"With this week's Atlas Edge and Elite Atlas Aero launches, we're continuing our leadership in gaming audio with two PC products that deliver a competitive advantage and a better gaming experience through high-quality audio," said Juergen Stark, CEO, Turtle Beach. "For example, in our PC-optimized version of Superhuman Hearing, we worked with the GRAMMY® award-winning team at Waves Audio to give our unique sound setting a few expanded options, so now PC gamers can select our default setting, or choose options that  focus specifically on enemy footsteps or weapon reloads, both key indicators for when an enemy player could be close."
Turtle Beach's Atlas Edge PC Audio Enhancer gives your existing wired headset an instant audio advantage on PC. With the Edge connected to your system through an available USB port, you'll gain access Turtle Beach's Control Studio – an all-new desktop software suite with a multitude of features to customize your audio, including immersive Waves Nx 3D audio which transforms sound from any PC game into a panoramic 3D sound experience. Also included are Waves Maxx sound technology, Mic Monitoring so you can hear your own voice in the headset to avoid shouting, and an updated PC-optimized version of Turtle Beach's exclusive Superhuman Hearing®, which provides a competitive advantage by allowing you to put specific focus on soft sounds like enemy footsteps or weapon reloads, so you hear them before they see you. Additionally, the Atlas Edge's standard 3.5mm female jack connects with any passive wired gaming headset, and with nearly 70 inches of cable length, works great with any PC gaming setup.