COD Champs 2019, also known as the 2019 Call of Duty World League Championship, is the next and final stop in the Call of Duty esports schedule. The dates for this prestigous event are the 16th-18th August, coming off the back of an exciting conclusion to the regular CWL season with CWL Miami; crowning a new champion in eUnited. COD Champs 2019 will feature 32 teams, made up of 160 players – 9 of which have played in every COD Champs. This event comes two months before Call of Duty Modern Warfare 2019 releases and has been the most competitive season in Call of Duty history; we're incredibly excited to see the conclusion at COD Champs 2019.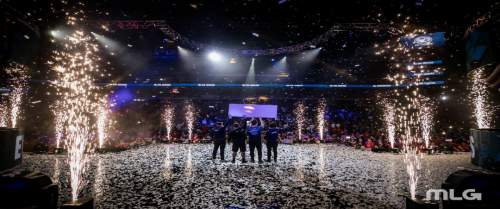 The dust has settled on an eventful CWL Miami. eUnited managed to take down Gen.G in a thrilling final, taking home a whopping $500K in prize money. Long-time competitor, James "Clayster" Eubanks broke his 1400-day winless streak thanks to exceptional performance in the second best-of-five series.
While the 16 Pro League teams battled it out in the Playoff bracket, hundreds of amateur teams competed for the final time in the CWL Amateur Finals. Tournament favourites Mindfreak fell short and failed to qualify for the season-ending world championship much to the shock of the community. While the Australians didn't qualify, there were plenty of UK teams and veteran players that managed to book their places in the tournament.
After three days of action, it was The Bhoys led by former Denial player Ben "Bance" Bance that managed to win an intense ten-game series against fellow UK roster, Team WaR.
When Is CoD Champs 2019?
The seventh annual Call of Duty world championship and the final tournament of the Black Ops 4 season takes place from August 14th to August 18th at the Pauley Pavilion in Los Angeles, California. 32 of the best Call of Duty teams will compete for the final time for the chance to be crowned world champion and a share of $2M USD in prize money – the largest prize pool in the history of the Call of Duty World League.
Every Team That Qualified for CoD Champs 2019
The 16 Pro League teams secured their spots at CoD Champs 2019 after qualifying for the league earlier this year. The last 16 teams to qualfy were determined through the CWL Amateur Finals. The top 16 teams from this tournament would round out the field for the final tournament of the Black Ops 4 season. Here is a full list of teams and rosters that will be competing for a share of the $2M in prize money.
100 Thieves: Kenny, Priestahh, Octane, Slasher, Enable
eUnited: Clayster, Arcitys, Prestinni, aBeZy, Simp
Gen.G: Maux, MajorManiak, Havok, Envoy, Nagafen
OpTic Gaming: Karma, Dashy, TJHaly, Crimsix, Scump
Luminosity Gaming: Slacked, John, FormaL, Skyz, Brack
FaZe Clan: ZooMaa, Cellium, Skrapz, Zer0, Asim
Splyce: Jurd, Temp, Loony, Aqua, Huke
Midnight Esports: Parasite, LlamaGod, Frosty, Royalty, Zaptius
Evil Geniuses: Xotic, Attach, Apathy, Jkap, Accuracy
UYU: Methodz, Classic, Saints, Blazt, Phantomz
Team Envy: Aches, Silly, Decemate, Gunless, Assault
Team Reciprocity: Dylan, Denz, Zed, Wuskin, Alexx
Enigma6: General, Kismet, GodRx, Mayhem, Breszy
Heretics: MethodZSick, Lucky, JurNii, MeTTalZz, Wartex
Elevate: ProFeeZy, MRuiz, Wailers, Lacefield, Believe
Units: Rated, Joee, Cammy, Nolson, Weeman
Aspire Esports: FA5TBALLA, RobbieB3319, TurnUp2eZ, Tisch, Super
The Bhoys: Bance, Seany, Quiker, Nastie, Chain
eXcalibur: Owakening, Landxnn, Deelo, Reaper, Willet
FURY Gaming: TeddyRecKs, Ramby, DraMa, GloFrosty, Demise
Mazer Gaming: SpaceLy, Parzelion, JetLi, Mosh, Apox
Sicario Gaming: Tommey, Chino, Proto, Exceed, Linney
Team WaR: Joshh, Dqvee, Vortex, Defrag, Peatie
TrainHard: Creza, Natshay, rizK, YaKo, ZeeK
Sage Esports: GRVTY, Cells, Vivid, Wrecks, Hollow
Fuego Gaming: MadCat, Hawqwh, Chaaxter, BBConor, Payne
Fire Sticks Gaming: Glory, HumanJesus, KlinK, 2ReaL, Gunsiii
Team Singularity: Keza, Bidz, Detain, Insight, CleanX
LGND Status GG: Phenom, Foncho, EFatal, Pure, Ryza
Team Divinely: Cookie, Phantom, Piero, Sharko, Pazy
Carnage Gaming: Destiny, Charullz, Pentagrxm, Vicious, Newbz
Hybrid Gaming: Spoof, Beehzy, Pandur, Stamino, Jintroid
The Groups
The groups for the 2019 Call of Duty Championship have been revealed. All 32 teams have been split into eight gropus of four, with the top two teams qualifying for the double-elimination bracket.
Who Are the Championship Contenders?
After taking home the trophy in Miami, eUnited are amongst several teams that are capable of taking home a championship ring. Along with the current champions, the likes of 100 Thieves, Gen.G, FaZe Clan and Team Reciprocity will all be practicing hard to hone their strategies ahead of the biggest tournament of the year.
While the usual suspects are always in the discussion for championship contention, there are definitely some dark horses in the forms of Team WaR and The Bhoys who could easily spring a surprise on some of the more established Pro League teams.
Follow us on Twitter to keep up to date with CoD Champs 2019 news.