Allied Esports, a global esports entertainment company and a subsidiary of Allied Esports Entertainment, Inc. , has teamed up with Xsens, a global leader in inertial motion capture products, to bring live animated casters to a professional esports tournament production for the first time.
Through the use of Xsens' MVN motion capture systems, used in popular films and series such as Black Panther and The Mandalorian, Allied Esports will transform its tournament casters into animated characters. The exclusively designed live motion avatars will provide fans with a fun and engaging viewing experience specific to the game being played, and create unique, innovative opportunities for brand and product integration.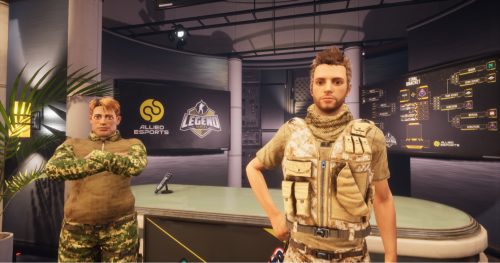 "As gaming and esports viewership continues to grow, we need to push the boundaries of competitive content to provide new and engaging viewing experiences for our audiences and partners," said Jud Hannigan, CEO of Allied Esports. "We're thrilled to make history again with the Legend Series and use Xsens' innovative motion capture animation technology to create a first-of-its-kind broadcast experience in esports."
"Allied Esports is taking live esports broadcasting to the next level by adding live animated casters to the tournaments," said Rob Löring, Business Director at Xsens. "This is very challenging, and in such a demanding technical environment, Xsens is the only solution to give a reliable performance."
The three-day, €5,000, winner-take-all CS:GO Legend Series tournament, featuring teams Apeks, Club Brugge, Nexus and NLG, will be produced out of Allied Esports' AE Studios in Hamburg, Germany, from April 10-12 and live-streamed on Allied Esports' North American and European Twitch channels. Inside the motion capture suits will be casters Robert Jan Kortooms (@RJcasts) and Thiadrik Oldersma (@Toldersma), who will inject their personalities and CS:GO expertise into the animated characters and tournament broadcast.
"I can't tell if I should be honored or offended by this historic request for my casting work – is having me on camera really so bad that they need to animate me?" said Oldersma.
Commented Kortooms: "I think this is quite the privilege! I'm looking forward to seeing an even better version of myself on screen."
Through its data and video rights partnership with GRID, a leading esports data provider that delivers official data to regulated bookmakers and sports betting platforms, Allied Esports' CS:GO Legend Series live-server data will be distributed to participating sportsbooks, allowing bettors to engage with the event in real time.
Created in 2017, Allied Esports' original Legend Series tournament brand was designed to expand the competitive ecosystem and total prize pool for teams ranked outside of the first tier, as well as provide a broadcast platform for regulated esports wagering.
Allied Esports' €50,000 prize pool VIE.gg CS:GO Legend Series in September 2020, which drew 1.7 million unique viewers, generated over 1 million hours watched and reached 98,000 peak viewers, was the first esports tournament registered for legal betting in the state of New Jersey. Allied Esports worked with various partners to broadcast the tournament on Twitch in six languages – English, Portuguese, Russian, Spanish, French and German – and on Chinese streaming platform HUYA, which carried both English and Chinese streams.
The April tournament will be Allied Esports' seventh edition of the CS:GO Legend Series. Previous versions of the series have included Overwatch, League of Legends, FIFA, COD Blackout and VALORANT.