World of Tanks Blitz is heading for a new frontier: outer space. Throughout April, all activities have a cosmic flavor, including several in-game events, the return of Burning Games and the Gravity Force mode, as well as a dedicated Battle Pass — Operation Red Planet — starring a new Explorer tank!
As a first salvo, to begin the "cosmic" month, World of Tanks Blitz launched a model of the mentioned tank into the stratosphere. This 1:32 size replica of the modified Tier VI Cromwell B medium tank sprung into the air at a speed of up to 15m/sec, hovered 24 km above Earth, landed successfully and is now ready to crown the special rewards of the action-packed Operation Red Planet!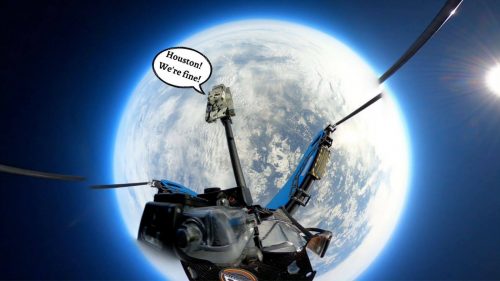 In addition to the new Operation, that will be running from April 1 to 30, tankers should strap in for a shower of cosmic activities:
First comes the Galaxy Riches event granting players an outstanding chance to get unique in-game items that can be exchanged for certain resources, such as credits, boosters and certificates for Premium Account days. The event will take place from March 26 until April 5.
Next follows a week of Burning Games. Running from March 31 to April 4, the event will be loaded with tons of fun to indulge yourself into as usual.
The Sheridan Rocket event will burst into the game on April 9 and will stay till April 16, allowing those players who haven't acquired the Sheridan Missile tank with the unique ATGM mechanics yet, to enjoy operating this vehicle!
Last but not least, the game will see the long-awaited return of the Gravity Force mode. Available from April 12 to April 18, it will introduce a new ability that allows tanks to jump up and operate in the air.
"April is a traditional "cosmic" month in World of Tanks Blitz, when we encourage our players to step out of the earthly limits and indulge in a truly out-of-this-world experience," says Natallia Pershyts, Publishing Product Director, World of Tanks Blitz. "This time, we're treating them to a whole cluster of special activities so everyone can find something to their liking!"
Official website: