Codemasters celebrates passing 9 million players who have taken to the driver's seat in DiRT Rally 2.0. The ultimate rally simulation has been enjoyed by more players than ever before who have covered every inch of gravel, tarmac, snow and ice.
To celebrate the occasion, Codemasters looks at some of the significant stats created by the DiRT Rally community.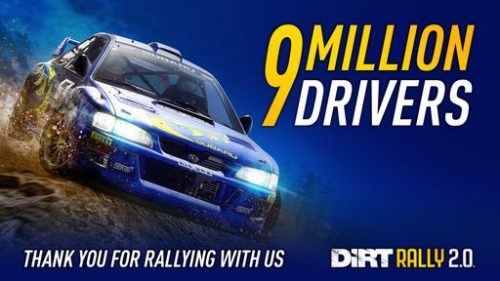 Distance Travelled:
The 196 million completed Stages, plus Time Trials and Rallycross events have seen us go quite a long way. To date players have travelled over 1.5 billion kilometres or 981 million miles. That's the equivalent of a single trip from the Sun to Saturn or roughly 10 trips from Earth to the Sun.
Most Popular Locations
DiRT Rally 2.0 sees players travel the world, taking in 26 wonderful and challenging locations.
Hawkes Bay in New Zealand is the most popular place to visit, with its smooth gravel and banked corners helping tame even the toughest of rally cars.
The heated tarmac treat of Spain comes second, with the terrifyingly high-speed Poland in third.
Most Popular Rally Cars
DiRT Rally 2.0 features over 50 rally cars spanning the history of the sport, and the favourites are mixed across a wide range of classes. We have excluded the Lancia Fulvia HF as everyone gets that for free.
The humble MINI Cooper S is the top pick as a great beginner's car, with the powerful Volkswagen Polo GTI R5 coming up next.
Another Volkswagen, the Golf GTI 16V, is third just ahead of Colin McRae's legendary SUBARU Impreza 1995 which comes in fourth.
Rounding out our top five is the Ford Fiesta R2, a modern front-wheel drive car which rewards those who push it hard.
Most Popular Rallycross Cars
Over in the world of Rallycross, it's the World RX Supercars that our players are jumping into the most, with the Audi S1 EKS RX quattro the top pick, followed by the dominant Volkswagen Polo R Supercar.
For those not ready to take on the 600 horsepower those cars provide, the Volkswagen Polo S1600 comes up third.
The SUBARU WRX STI Rallycross is another fan favourite, with the RX2 car, the Ford Fiesta OMSE SuperCar Lites, completing the Top 5.
As with the rally cars we've excluded your free "starter car", the Opel Corsa Super 1600, from this list.
Ross Gowing, DiRT Rally 2.0 Game Director, said: "Whether players started in the MINI Cooper S, barrelled through Scotland in the Ford Fiesta R5 MKII or took on Timmy Hansen in the FIA World Rallycross Championship, we're honoured so many players have driven with us. On behalf of the team, I would like to thank them all for their continued support, and here's to more great memories in the future."