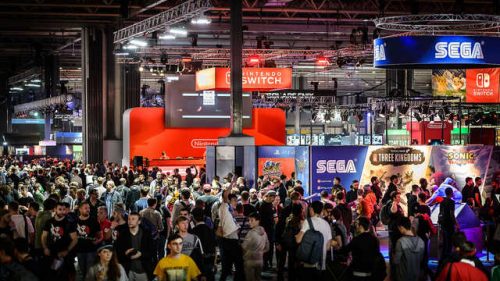 Gamer Network, organizers of the UK's premier games events is excited to announce that DOOM Eternal, the upcoming sequel to DOOM (2016), will be playable at EGX 2019!
The UK's biggest games event, EGX will take place at London's ExCeL on the 17th – 20th October, where UK fans will be some of the first to play the blistering and brutal first-person shooter.
Developed by id Software, DOOM Eternal is the direct sequel to the award-winning and best-selling DOOM (2016). Experience the ultimate combination of speed and power as you rip-and-tear your way across dimensions with the next leap in push-forward, first-person combat.  Powered by idTech 7 and set to an all-new pulse-pounding soundtrack composed by Mick Gordon, DOOM Eternal puts you in control of the DOOM Slayer as you blow apart new and classic demons with powerful weapons in unbelievable and never-before-seen worlds.
Fans looking for more DOOM and Bethesda action can also experience the sheer power of the DOOM Slayer at the EGX Theatre,  with a DOOM Eternal panel hosted by professional wrestler and self-confessed video games idiot,  Simon Miller. DOOM Eternal: How To Train Like A DOOM Slayer will see Simon host a series of physical and in-game challenges to see if fans have got what it takes to become the all-powerful DOOM Slayer!
Following last year's EGX smash-hit, Bethesda will also be back in force with Bethesda Community Quiz  – The Sequel. Comedian John Robertson will host the second annual quiz, testing fans' knowledge on DOOM ripping and tearing and with prizes worthy of the DOOM Slayer himself will up for grabs!
For more information, visit the What's On page to discover everything that is coming to EGX this October. 
About EGX
EGX is the UK's largest video games consumer, trade and careers event. Produced by Gamer Network, EGX (and its indie games-focussed sibling EGX Rezzed) features playable pre-release games on both PC and console, stage presentations by well-known games designers and the opportunity to chat with developers on the show floor. Featuring the biggest collection of indie games anywhere in the world, esports tournaments, cosplay competitions, gaming talent and content creators, the Leftfield Collection, tabletop games, the GamesIndustry.biz Career Fair and more, EGX is a huge 4-day celebration of gaming.
For more information visit www.egx.net/egx;