CCP Games, the creators of the in-depth and uniquely player-driven spaceship MMO game EVE Online, have announced that tickets are still available for G-Fleet 2019 in Berlin, the next stop on the EVE Invasion World Tour and running September 13-14. Tickets for this unmissable are event obtainable by following this link, priced from €9 and up.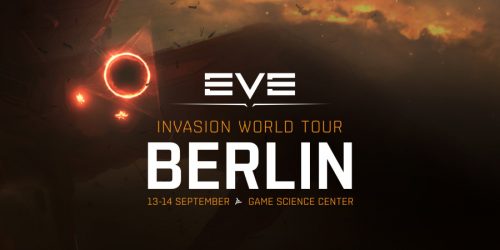 For the last half decade, Germany has been home to one of the most amazing player-hosted EVE Online gatherings on the planet – G-Fleet. Previously hosted in Dusseldorf, this event has seen incredible success over the years and has grown to be one of the largest and most celebrated events on the calendar.
Now in Berlin for the fifth event of the year-long EVE Invasion World Tour, a global series of Capsuleer gatherings, G-Fleet will be bringing EVE Online closer to its community than ever before. On September 13th, G-Fleet begins a weekend-long EVE-fest in Berlin at the Game Science Center, where EVE Online developers eagerly await mingling with the attending EVE Online community, on-site and online.
From parties and presentations to tournaments, charity drives and of course beer pong, G-Fleet has something to offer every type of attendee whether you're looking for a quiet beer with a few wingmen, or a crazy party where you can raise a glass or ten and sample a multitude of delicious German beers.
Two special guests are also set to take the stage at G-Fleet. EVE historian and journalist Andrew Groen, author of "Empires of EVE: A History of the Great Wars of EVE Online" will present a talk titled "Epic stories from the EVE Universe", charting the momentous and amazing player-moments that have made their mark on EVE's history. Also attending and showcasing a special screening of "Even Asteroids Are Not Alone" is Jón Bjarki Magnússon, his film following the experience of fourteen players as they travel through a lone and vast world, whilst forging everlasting bonds amid a hostile and untrustworthy galaxy.
Fans can join in on the action via the livestream on CCP's Twitch channel on Saturday 14th September. The full G-Fleet presentation schedule can be found in CCP's G-Fleet Megablog.
"Our community has a long history of hosting player gatherings in Germany," said Paul Elsy, Senior Community Developer for EVE Online. "Now in Berlin, we're looking to kick things up a notch with G-Fleet in the capital and spend some time with our community on the ground and across the world celebrating all things internet spaceships."
Future events on the 219 EVE Invasion World Tour comprise:
About EVE Online®
EVE Online (PC/Mac) is a compelling, community-driven spaceship MMO game where players can build and pilot a wide variety of starships, traversing vast solar systems for free and choosing their own path from countless options, experiencing space exploration, immense PvP and PvE battles, mining, industry and a sophisticated player economy in an ever-expanding sandbox. EVE is a captivating game in which hundreds of thousands of players compete for riches, power, glory and adventure, forging their own destinies in a single thriving universe. For more information, visit www.eveonline.com.